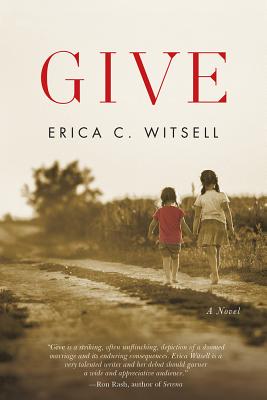 Give, a Novel (Paperback)
BQB Publishing, 9781945448348, 430pp.
Publication Date: June 1, 2019
* Individual store prices may vary.
Description
A very unusual family saga written with unusual intelligence and compassion. Erica Witsell has a gift for depicting complex relationships. —Phyllis Rose, author of Parallel Lives, The Year of Reading Proust, and The Shelf

Every summer, Jessie and Emma leave their suburban home in the Central Valley and fly north to Baymont. Nestled among Mendocino's golden hills, with ponies to love and endless acres to explore, Baymont should be a child's paradise. But Baymont belongs to Laurel, the girls' birth mother, whose heedless parenting and tainted judgement cast a long shadow over the sisters' summers---and their lives.

Caught in a web of allegiances, the girls learn again and again that every loyalty has its price, and that even forgiveness can take unexpected turns.

Luminous and poignant, Give is the story of one family's troubled quest to redeem the mistakes of the past and a stirring testament to the bonds of sisterhood.

This is a gripping narrative about family, identity, and loyalty . . . Beautifully written! —Kate Rademacher, author of Following the Red Bird

At times subtle and at times cutting to the quick Give digs deep into the heart and soul of a family as connected as it is torn apart. Give pulls no punches, delivering an honest look into the lengths we will go for family. —Amy Willoughby-Burle, author of The Lemonade Year
About the Author
Erica Witsell
has a bachelor's degree from Wesleyan University and a master's from UC Berkeley. Her writing has appeared in
The Sun Magazine
, and
Brain, Child's
online publication.
Give
is her debut novel. Erica lives in western North Carolina with her family, where she teaches English as a new language and writes a blog about motherhood. She loves mountains, languages, bicycling, and dance. Visit her online at
www.ericawitsell.com
Praise For Give, a Novel…
"I met Erica at a conference and after hearing her speak, I couldn't wait to read her book—I was not disappointed. Jessie and Emma are the product of a broken marriage between Len and Laurel." —Andrea, reviewer at Fountain Bookstore, Richmond, VA
"Erica is a superb story teller, and her book deserves to be read by as many book lovers as possible." —Jon Mayes, book blogger, https://advancereadingcopy-jon.blogspot.com/2019/05/erica-witsells-give.html
"In its earnest, unrestrained exploration of sisterhood, Give is a groundbreaking approach to the timeless themes of loss, love, and loyalty." —Wesleyan University Newsletter