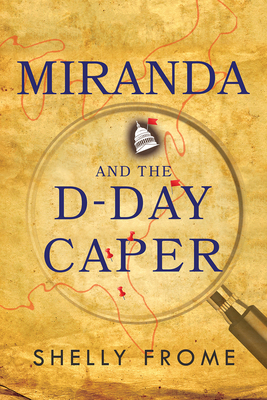 Miranda and the D-Day Caper
Paperback

* Individual store prices may vary.
Description
2021 Royal Dragonfly Book Award Winner Mystery
2021 eLit Bronze Award Winner Mystery
Readers Favorite Book Award Winner Sleuthing Mystery

Small town realtor, Miranda Davis, never expected to uncover a terrorist plot.

But when her cousin, Skip, playfully broadcasts some intercepted code messages like "Countdown to D Day" on his radio show, he begins to receive threatening anonymous messages leaving Miranda to wonder if he's stumbled into something much more sinister…

After Skip's beloved cat, Duffy, is snatched as a warning, Miranda finds herself roped into a dangerous mission to decipher a conspiracy that threatens to tip a crucial senatorial vote. As they're forced into a race against time to unmask the perpetrators and prevent a disaster, Miranda must somehow decipher the use of old timey WWII tactics to bring the terrorists' shadowy plot to light.

But, the clock is ticking.

Miranda and Skip will have to act fast if they want to prevent innocent blood from being spilled and keep themselves alive in the process.

Can Miranda crack the code and stop the terrorists? Or will she be too late?

Find out in Miranda and the D Day Caper, a riveting contemporary mystery that mixes modern political intrigue, old time heroes and values, and life in the beautiful Blue Ridge Mountains.

What Readers of Miranda and the D Day Caper Have To Say:

"Fans of spunky female leads will look forward to seeing more of Miranda." —Publisher's Weekly

"A fantastic modern tale with a nostalgic feel." —Jana Zinser, author of the award winning novel, The Children's Train

"The author quickly displays his prowess for developing a highly intricate and imaginative plot. The characters are quirky and spirited, and their entertaining interactions and conversations will bring a smile to readers' faces. For fans of mystery, politics and adventure, this book is a must read!" —Book Excellence Awards

"It has everything good old fashioned mystery, a political thriller, humor, and plenty of suspense. You won't fail to be hooked by this story…[it] draws you into its web and keeps you there until the end." —Reader's Favorite
Praise For Miranda and the D-Day Caper…
"An exciting and thrilling mystery! Keeps you on the edge of your seat. As a small-town realtor unravels the mystery of violent plots and conspiracies, she navigates the complexities of today's politics using codes of World War II strategies, all to protect her cousin. Shelly Frome's book Miranda and the D-Day Caper is a thrilling mystery that takes unexpected twists and turns as the truth is uncovered and the race is on to prevent a tragic event with national implications. A fantastic modern tale with a nostalgic feel." —Jana Zinser, Author of the award winning novel The Children's Train
BQB Publishing, 9781945448577, 338pp.
Publication Date: March 1, 2020
About the Author
Shelly Frome is a member of Mystery Writers of America, a professor of dramatic arts emeritus at the University of Connecticut, a former professional actor, and a writer of crime novels and books on theater and film. He is also the film columnist for Southern Writers Magazine and writes monthly profiles for Gannett Media. 
or
Not Currently Available for Direct Purchase