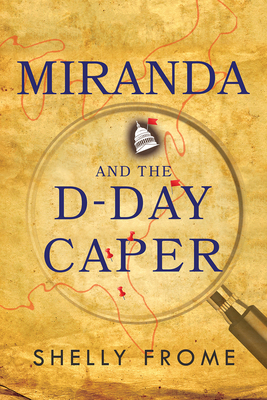 Miranda and the D-Day Caper
Paperback

* Individual store prices may vary.
Description
On a sparkling spring morning in the Blue Ridge, small-town realtor Miranda Davis approached the tailgate market, intent on dealing with her whimsical cousin Skip's unexpected arrival from New York. It turns out that Skip was on the run and, in his panic, grabbed his beloved tabby Duffy, recalling that Miranda had a recent part in solving a case down in Carolina. His predicament stemmed from intercepting code messages like "Countdown to D-Day," playfully broadcasting the messages on his radio show over the nation-wide network, and subsequently forced to flee. At first, Miranda tried to limit her old childhood companion's conundrum to the sudden abduction of Duffy the cat. But the forces that be were hell-bent on keeping Skip under wraps by any means after he stumbled close to the site of their master plan. Miranda's subsequent efforts to decipher the conspiracy and somehow intervene placed both herself and her old playmate on a collision course with a white-nationalist perpetrator and the continuing machinations of the right-wing enterprise, with the lives of all those gathered for a diversity celebration in nearby Asheville and a crucial senatorial vote on homeland security hanging in the balance.
Praise For Miranda and the D-Day Caper…
"An exciting and thrilling mystery! Keeps you on the edge of your seat. As a small-town realtor unravels the mystery of violent plots and conspiracies, she navigates the complexities of today's politics using codes of World War II strategies, all to protect her cousin. Shelly Frome's book Miranda and the D-Day Caper is a thrilling mystery that takes unexpected twists and turns as the truth is uncovered and the race is on to prevent a tragic event with national implications. A fantastic modern tale with a nostalgic feel." —Jana Zinser, Author of the award winning novel The Children's Train
BQB Publishing, 9781945448577, 338pp.
Publication Date: March 1, 2020
About the Author
Shelly Frome is a member of Mystery Writers of America, a professor of dramatic arts emeritus at the University of Connecticut, a former professional actor, and a writer of crime novels and books on theater and film. He is also the film columnist for Southern Writers Magazine and writes monthly profiles for Gannett Media.