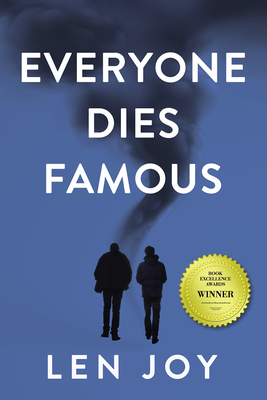 Everyone Dies Famous
Paperback

* Individual store prices may vary.
Description
". . . The vivid descriptions and sensory details brought this small town and its deeply flawed characters to life. Len Joy is a gifted writer and storyteller." Goodreads review.

As a tornado threatens their town, a stubborn old man who has lost his son teams up with a troubled young soldier to deliver a jukebox to the wealthy developer having an affair with the soldier's wife.

It's July 2003 and the small town of Maple Springs, Missouri is suffering through a month-long drought. Dancer Stonemason, a long-forgotten hometown hero still grieving over the death of his oldest son, is moving into town to live with his more dependable younger son. He hires Wayne Mesirow, an Iraq war veteran, to help him liquidate his late son's business.

The heat wave breaks and the skies darken. Dancer tries to settle an old score while Wayne discovers the true cost of his wife's indifference and turns his thoughts to revenge. When the tornado hits Maple Springs, only one of the men will make it out alive.

Everyone Dies Famous is a story from the heartland about the uncommon lives of everyday people - the choices they make, how they live their lives, and how they die.

"This is an incredibly well written book.The dialogue is compelling and I felt like I knew each and every character." - NetGalley review

". . . Len Joy is a master at pacing, and he moves us along --- urging us to turn the pages faster and faster. Each short chapter is time-stamped, and the action takes place in an intense fourteen hours, increasing with the building of a massive storm front. . . " LiteratureLust Book Blog

"I was captivated from the first page and stayed like that throughout the rest of the book. You want to know what happens next. All the characters are relatable in some way and you miss them when the book is done. Len Joy leaves you wanting more." - NetGalley review

". . . Beautifully written and full of emotion. . . " - The Bookwormery

"Great book. Riveting story with characters worth caring about and rooting for. I read this in one sitting---the pages turned themselves." - Verified reviewer


Praise For Everyone Dies Famous…
"The plot is entirely character-driven in this deftly paced story, and the characters are well drawn and endearingly flawed. . .A well-paced Midwestern tale populated by intriguing ne'er-do-wells."  —Kirkus Reviews

"The kind of novel that will linger in the mind and memory long after it has been finished and set back upon the shelf." —James A. Cox, Midwest Book Review

"The kind of novel that will linger in the mind and memory long after it has been finished and set back upon the shelf." —Midwest Review

"Everyone Dies Famous is a moving and emotionally complex story that resonates because their struggles live in all of us. Don't miss this wonderfully-written tale of struggle, redemption, and family love. It's simply beautiful." —Jana Zinser, Author of the award winning novel The Children's Train
BQB Publishing, 9781945448720, 268pp.
Publication Date: August 1, 2020
About the Author
Len Joy had an idyllic childhood, growing up in the gem of the Finger Lakes, Canandaigua, New York. In high school he lettered in four sports and went off to the University of Rochester with dreams of becoming a football hero and world famous novelist. But that didn't happen. Instead he switched his major from English to Finance, quit the football team but started dating one of the cheerleaders. Three years later, Len and Suzanne were married, and four decades later, they still are with three grown kids.

They relocated to Chicago where Suzanne became a corporate lawyer and Len, with his MBA and CPA, became the auditing manager for U.S. Gypsum. Several years later, he bought an engine remanufacturing company in Arizona and for fifteen years communted to Phoenix.

During those many flights, Len read hundreds of novels, renewing his dream of becoming a world famous author. In 2004, he wound down his engine business and started taking writing courses and particpating in triathlons.

Today, Len is a nationally ranked triathlete and competes internationally representing the United States as a part of TEAM USA. He is also the author of three published books, with a fourth ("Everyone Dies Famous") to be released in July 2020 by BQB Publishing. Len's books and his writing have received shining reviews: "American Past Time" was reviewed by Kirkus as ". . .expertly written and well-crafted." Kirkus also described "Better Days" as "a character-rich skillfully plotted Midwestern drama" and Foreword Reviews found it to be "a bighearted wry, and tender novel that focuses on love and loyalty."