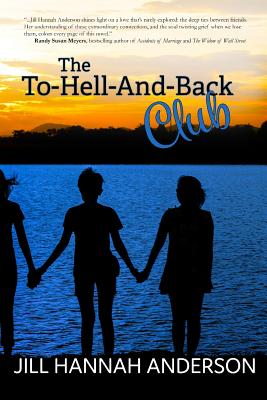 The To-Hell-And-Back Club
Paperback

* Individual store prices may vary.
Other Editions of This Title:
Paperback (7/31/2017)
Description
When you've been to hell...
new friends can bring you back.
In this inspiring debut from Jill Hannah Anderson Peyton Brooks, a newly-empty nester with a comatose marriage, loses her three best friends in a car crash, and reaches out to women in the To-Hell-And-Back Club, hoping they'll help resuscitate her life.
Through the "Hell Club", Peyton learns that it's never too late to begin again. These been-there-felt-that women use their sense of humor, strength, and support to help pull her off the couch and back to living her life.
She puts an end to her troubled marriage and rebuilds the life she'd put aside two decades ago. But when Peyton digs up time capsules she and her friends buried years ago and uncovers secrets about those she loved, she struggles to keep her own life-changing secret buried.
The "Hell Club" women help remind Peyton of the strength within her. She finds a renewed hope in life and love when she faces the mistakes and guilt that have troubled her for years. When Peyton's secret is discovered, she's going to need the "Hell Club" women more than ever.
The To-Hell-And-Back Club is an inspiring book that reminds us that it's never too late to start over, and that living a life of regrets is no life at all.
Pandamoon Publishing, 9781945502538, 256pp.
Publication Date: May 10, 2017
About the Author
Jill lives on a lake in Minnesota with her husband in their rarely-empty nest, where they enjoy their six adult children and many grandchildren when they come to visit. Her first women's fiction novel, THE TO-HELL-AND-BACK CLUB, was published in May, 2017. Her second novel, CRAZY LITTLE TOWN CALLED LOVE, was published in July 2018. Jill loves to visit with book clubs. You can connect with her through her website at: www.JillHannahanderson.com, or on her social media pages: Facebook www.facebook.com/jillhannah.anderson/, Twitter https: //twitter.com/JillHannahA, or Instagram @jillh.anderson When she isn't writing, reading, or spending time with family and friends, you'll find her running, curling, biking, and enjoying the great outdoors.