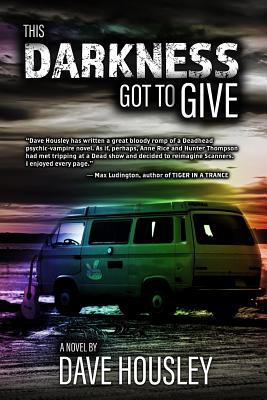 This Darkness Got to Give (Paperback)
Pandamoon Publishing, 9781945502880, 194pp.
Publication Date: May 17, 2018
* Individual store prices may vary.
Description
This Darkness Got to Give is a story to die for...
Cain lives the unconventional life of a Deadhead, one of the many fans following the Grateful Dead's fateful 1995 tour as part of the Dead's colorful, uninhibited entourage. A vampire determined to fly below the governmental radar, he has carefully constructed his life into one of sheep's blood and self-control. Drugs aren't really his thing considering the circumstances, but it only takes one dose from a stranger for Cain's world to collapse around him and end in what he'd been determined to avoid: murder.
Bodies mount behind Cain as his control frays ever further, and more than one government agency takes notice. The FBI sends Jenkins, a methodical agent who has experience with vampires, and the secretive Invasive Species Division sends Peter, a rootless recent grad who fits a strange list of qualifications. The closer those on Cain's trail get, however, the less straightforward capturing him becomes, until decades-old governmental secrets are forced into the light and those responsible must face justice, one way or another.
About the Author
Dave Housley is the author of four collections of short fiction, including Massive Cleansing Fire, If I Knew the Way, I Would Take You Home, Commercial Fiction, and Ryan Seacrest is Famous. He is one of the Founding Editors of Barrelhouse, a literary magazine, small press, and nonprofit literary organization, and is the primary organizer of the Conversations and Connections writer's conference, which is held in DC in the Spring and Pittsburgh in the Fall. He lives in State College, PA with his wife Lori and son Ben. This Darkness Got to Give is his first novel.