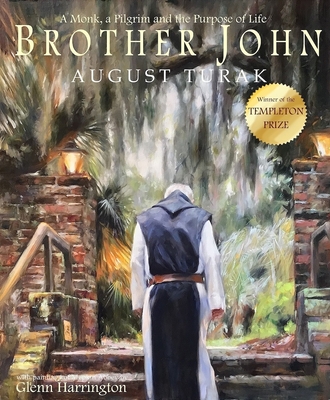 Brother John (Hardcover)
A Monk, a Pilgrim and the Purpose of Life
Clovercroft Publishing, 9781945507946, 48pp.
Publication Date: October 21, 2018
* Individual store prices may vary.
Description
Through a magical encounter between the author and a Trappist monk, Brother John becomes our guide to the redemptive power of an authentically purposeful life.
Recipient of the prestigious Templeton Prize, Brother John is the true story of a meaningful encounter between a man going through a mid-life crisis, and an umbrella-wielding Trappist monk. This magical encounter on Christmas Eve eventually leads the author, and us all, to the redemptive power of an authentically purposeful life. Uplifting, deeply moving, Brother John is dramatically brought to life by over twenty full color paintings by Glenn Harrington, a multiple award-winning artist. Brother John's moving story takes place at Christmastime, and its inspirational message and rich illustrations are sure to bring the reader back again and again throughout the year.
About the Author
August Turak is a successful entrepreneur, corporate executive and award-winning author who attributes much of his success to living and working alongside the Trappist monks of Mepkin Abbey since 1996. As a frequent monastic guest, he learned firsthand from the monks as they grew an incredibly successful portfolio of businesses. Service and selflessness are at the heart of the 1,500-year-old monastic tradition's remarkable business success. It is an ancient though immensely relevant economic model that preserves what is positive and productive about capitalism while transcending its ethical limitations and internal contradictions. Combining case studies from his thirty-year business career with intimate portraits of the monks at work, Turak shows how Trappist principles can be successfully applied to secular business settings and to our personal lives as well. He demonstrates that monks, people like Warren Buffett and other "transformational organizations" are successful not despite their high principles but because of them. He lives in North Carolina.Glenn Harrington's paintings are recognized and collected internationally. They are highly esteemed among collectors and publishers and have been featured in American Arts Quarterly, American Art Collector, International Artists Magazine, and on the covers of American Artist and US Art, New Art International, The New York Times, and more. He has numerous solo exhibitions in New York, Japan, Charleston, South Carolina, and Pennsylvania, and has exhibited at the Norman Rockwell Museum, The Museum of American Illustration and the USGA Museum. His portrait work has received the Portrait Society of America's Draper Grand Prize in 2007, Honor Award in 2008 and 2005 and Certificate Awards in 2009 and 2004 during its international juried exhibitions. He lives in Pennsylvania.