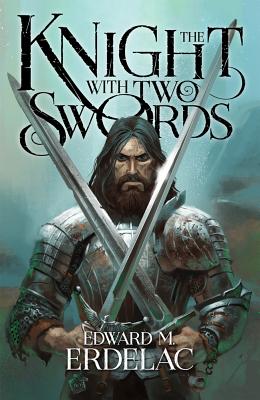 The Knight with Two Swords
Paperback

* Individual store prices may vary.
Other Editions of This Title:
Paperback (12/20/2018)
Description
Before Arthur, there was Uther.
Before Lancelot, there was Balin The Savage.
Before the Holy Grail could be found...it had to be lost. Balin and his twin brother Brulen grow up revering their dead father, a storied knight of the High King Uther's time, but are held back from following in his footsteps by their mother, a priestess of the old religion whose capitol is the Isle of Avalon and whose chief defender is Merlin, the son of a demon. Brulen respects the old ways, but Balin submits to the will of the Christian God. When their mother is burned at the stake as a witch by fanatics, Balin blames the corrupting influence of Avalon, and Brulen declares war on the Christian priests. The two take very different paths to knighthood. A new high king arises; Arthur, whose rule must unite pagan and Christian alike. Sir Balin, now known as The Savage, answers the king's call, but in his heart, questions the presence of the shadowy wizard Merlin beside the throne. When a vengeful enchantress comes to court bearing a cursed sword and promises to make Balin the greatest knight in Albion if he will slay his beloved king, Balin sets out on a long quest that will veer between God and glory, love and madness, justice and revenge, and shake the land of Albion to its very foundation.
Ragnarok Publications, 9781945528545, 404pp.
Publication Date: December 1, 2017
About the Author
Edward M. Erdelac is the author of the acclaimed Judeocentic/Lovecraftian weird western series Merkabah Rider, Buff Tea, Coyote's Trail, Andersonville, and the compiler of Abraham Van Helsing's papers (in Terovolas). In addition to short story appearances in dozens of anthologies and periodicals, he is an independent filmmaker, an award winning screenwriter, a game designer, and sometime Star Wars contributor.
or
Not Currently Available for Direct Purchase