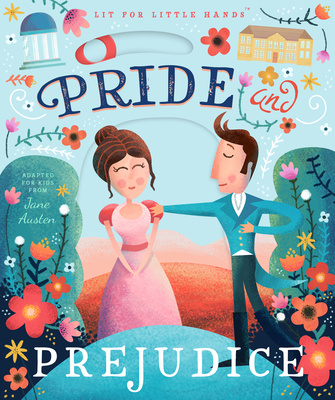 Lit for Little Hands (Board book)
Pride and Prejudice
Familius, 9781945547355, 16pp.
Publication Date: October 13, 2017
* Individual store prices may vary.
Description
To be fond of dancing was a certain step towards falling in love. —Pride and Prejudice, Jane Austen
Filled with interactive wheels and pull-tabs and lavishly illustrated, Lit for Little Hands: Pride and Prejudice is an unprecedented kid's introduction to Jane Austen's beloved classic novel. Unlike many board books that tackle the classics, Lit for Little Hands tells the actual story in simple, engaging prose. Goregous pastoral illustrations transport the reader to the fields and estates of Lizzy's England, while tons of interactive elements invite kids to spin the dancers at the ball, care for Jane, open a shocking letter, and more! Austen fans will be delighted by the book's attention to detail and clever use of original dialog. And the book's use of super-sturdy board means everyone can enjoy this tale of wit and romance over . . . and over . . . and over again!
About the Author
Brooke Jorden earned a BA in English and editing from Brigham Young University. The author of If It Fits, I Sits: The Ultimate Cat Quotebook, I Dig Bathtime, and the Lit for Little Hands series, Brooke is also the managing editor at Familius. Brooke, her husband, their three children, and their cat live in Cedar Hills, Utah.
David Miles is an illustrator, web designer, and publisher of books to help families be happy.