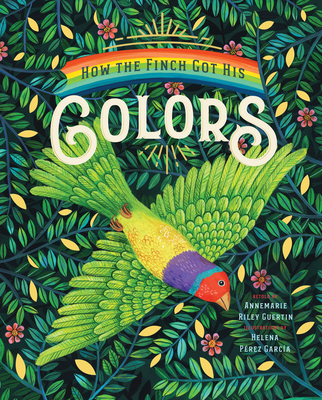 How the Finch Got His Colors
Hardcover

* Individual store prices may vary.
Description
Many years ago, before the world bloomed in magnificent colors, the Earth lay stark and gray.
The animals that graced its skies and roamed its lands were the colors of dirt, clay, and stone . . . 
. . . until Rainbow descended to bestow her colors on the creatures of the world. Each bird asked for a bright and beautiful color: green for Parrot, red for Cardinal, and yellow for Canary. But will there be any colors left for little Gouldian Finch? He soon learns the power of patience and the beauty of all creatures.
Based on a Belgian folktale, this beautifully told and illustrated tale is a timeless treasure for every collection.
Praise For How the Finch Got His Colors…
"In a style resembling a creation myth, Guertin describes how animals got their colors. A quasi-biblical downpour concludes with a shimmering rainbow, which imparts color to all the animals in its path. The language is poetic: 'The fish in the ocean waters glinted silver, violet, and aquamarine. The yellow duck paddled in the sapphire blue of the pond. And the red fox scurried through the amber forest.' Great Bird, ruler of the bird kingdom, begs Rainbow to color him, and 'with one swift kiss, she turned Great Bird from gray to shimmering gold.' All the other birds jostle to be colored by the rainbow. One by one, Parrot, Cardinal, Blue Jay, Canary, and all the other birds are appropriately colored. As the colors begin to run out, Great Bird notices a small Gouldian finch (a rare Australian finch) who is still uncolored. It turns out the finch was too polite and waited too long, until the colors had been given to the more acquisitive fowl. Rainbow's solution? With their agreement, she gathers a splash of color from each of the birds, and Gouldian Finch is magically transformed into his true rainbow-colored splendor. Pérez García adopts a folk-art style to complement the story, which is based on a Belgian folk tale, flat perspectives and stylized shapes evoking European decorative motifs. An imaginative chromatic fantasy with an altruistic conclusion."
—Kirkus Review
"In How the Finch Got His Colors, author Annemarie Riley Guertin and illustrator Helena Pérez García bring a Flemish legend to gloriously colorful life.

The folk tale tells how the Gouldian finch, native to Northern Australia and New Guinea, gained its spectacularly vibrant feathers. 'Many years ago,' Guertin's interpretation begins, 'the Earth lay stark and gray. The animals . . . were the colors of dirt, clay, and stone.' García's double-page spread features monochromatic examples of familiar animals--lions, giraffes, horses--depicted on rolling gray hills. 'To prepare Earth for its awakening, a great rain fell upon the land.' When the skies cleared, there was a rainbow. 'As Rainbow shimmered down, she turned everything in her path into bright, bold colors': García's gray landscape is cut down the center by a swath of vibrant greens, pinks, reds, as Rainbow sets the world alight.

Great Bird tells the birds to line up and wait their turn for color. But all of the birds push to the front, 'worried that all of Rainbow's colors [will] be taken.' Rainbow begins to 'grow weary from her hard work' and, as her colors fade to nothing, Great Bird notices that the tiny finch is still gray. Finch, who has waited patiently for his turn, begins to cry. Ashamed, all of the birds come together and, with the help of Rainbow's kiss, donate a little bit of their color to the tiny bird, giving him feathers 'every color of the rainbow.'

Featuring 'Fun Facts,' discussion questions and a bibliography, debut author Guertin's text gives the fable the gentle cadence of a bedtime story while García's brilliantly stylized illustrations give a nod to the fable's European roots. How the Finch Got His Colors is an uplifting and riotously colorful origin myth."
—Siân Gaetano, children's and YA editor, Shelf Awareness
Familius, 9781945547775, 32pp.
Publication Date: March 6, 2018
About the Author
Annemarie Riley Guertin is a newly minted author. Her debut picture book, How the Finch Got His Colors (Familius), flew onto shelves in 2018. She has a second book, Why Evergreens Keep Their Leaves (Familius), coming out in 2019. Annemarie graduated from Wheelock College and Fitchburg State University, earning both a bachelor's and master's degree in education (summa cum laude). Annemarie is a literacy coach for the Salem Public School district in Salem, MA. She lives in Haverhill, MA, with her husband, Michael, and their two children.
Helena Perez Garcia is a Spanish illustrator living in Madrid whose work has appeared across magazines, newspapers, packaging, and books for children and adults internationally. Some of her clients include Penguin Random House, The Body Shop, Tate Publishing, The Financial Times, Reader's Digest, and Il Corriere della Sera.