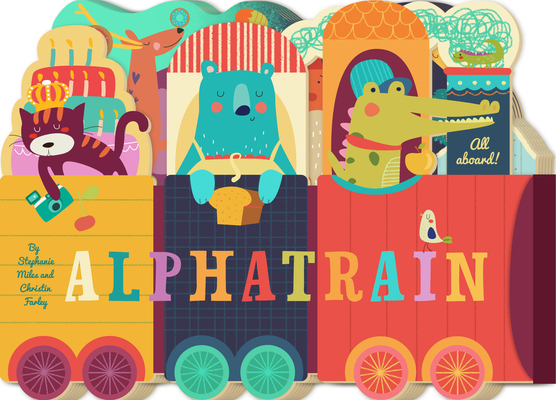 Alphatrain (Board book)
Familius, 9781945547812, 14pp.
Publication Date: May 1, 2018
* Individual store prices may vary.
Description
All aboard the Alphatrain! This adorable two-in-one board book features beautifully illustrated animals for every letter of the alphabet and can be read page-by-page as a lap book or be unfolded into a 42" train! (Perfect for play time or room decor!) In addition to the animals, each whimsically designed train car includes fun objects for each letter: Bear eats a banana, Elephant listens to earphones, and Fox wears a fez (of course). As a bonus, the back of each page lists the words of each hidden object so kids can search for them on the front of the car. A handy clasp keeps everything snuggly shut when reading time is over.
About the Author
David Miles makes books for a living. He also reads books, writes books, sells books, shelves books, thinks about books, drives to books, sleeps to books, and cooks from books, but he doesn't eat books (which is fortunate). He is the author of Book and has illustrated multiple series including the Slide-N-Seek novelty books and the Let's Count regional board books. David graduated from Brigham Young University with a BS in business management. He and his wife and son live in California where they enjoy lots of tacos, donuts, and, well . . . books.
Stephanie Miles graduated with a degree in child development from Fresno State. She has taught preschool, worked with kids in after-school programs, and volunteered with the Boys and Girls Club. She loves stripes, donuts, and striped donuts. Most of all, she loves her husband, son, and pet rabbit named Heartlove. They live in California.
Christin Farley graduated with a degree in liberal studies from Fresno State and also holds a California teaching credential. She lives in Fresno, CA, with her husband and three children.