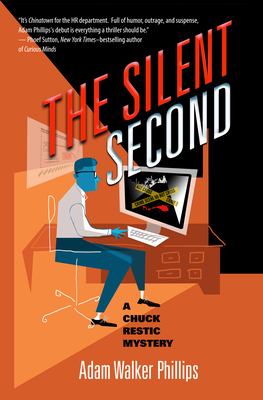 The Silent Second: A Chuck Restic Mystery (Paperback)
A Chuck Restic Mystery
Prospect Park Books, 9781945551048, 280pp.
Publication Date: August 15, 2017
Description
Chuck Restic has achieved the American dream: a successful career with a large corporation, his own home, the best health care insurance and retirement package... but he's crumbling inside. Twenty years in Human Resources have pushed him into an existential crisis. He realizes there is so little value in what he does all day, and it is only when he embarks on a mission to find a missing employee from his firm that he truly starts to feel alive again.
This is Chuck's first step toward moonlighting as a private detective -- a job in which he turns out to excel. Constantly balancing the inane demands of his office and the excitement of his new "job," he finally finds what he's been missing. By applying his HR skills and wit to his new passion for detective work, Chuck unravels a web of crooked real estate deals and three murders, staving off a fourth: his own.
The first in the Chuck Restic mystery series, The Silent Second began life as the novel Smile Now, Cry Later, a self-publishing success story that led to a series commitment from publisher Prospect Park Books. Thoroughly re-edited, improved, re-designed, and re-titled, this smart, witty crime novel introduces an engaging (if sometimes bitter) private eye for the corporate era.
About the Author
Adam Walker Phillips is a 20-year veteran of Corporate America. He has endured countless PowerPoint decks, offsite retreats and visioning sessions, synergies, and synergistically-minded cross-functional teams to bring you the Chuck Restic mystery series. He lives with his wife and children in Los Angeles.
Advertisement