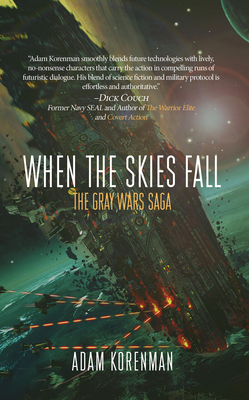 When the Skies Fall
The Gray Wars: Volume 2
Paperback

* Individual store prices may vary.
Description
The Boxti destroyed one planet and invaded another. They bled humanity to the breaking point. Then they disappeared. In the sudden reprieve, startling rumors chip away at the tenuous alliance between humanity and the alien refugees, the Nangolani. Kaileen Nuvarian, hotheaded bomber-pilot, awaits a court-martial for her insubordination during the alien attack. If she loses her case, she could face a firing squad. Her new friend, ace fighter Cameron Davis, is busy fighting. Meanwhile, on a top-secret planet, seven soldiers enter a mysterious training facility that promises a future for humanity. Josh Rantz, the recently promoted lieutenant, wonders what he will sacrifice to achieve such a lofty goal. Rebel leader Jonah Blightman activates his plan to bring down the Terran government, starting with the controversial leader of the free worlds, Alexander Burton. But behind the scenes, a shadowy cabal of powerful men and women control the true power of the four colonies. While the exhausted leaders of humanity and the Nangolani struggle to prepare for the coming war, the Boxti awaken an ancient and terrible beast: A weapon from another era, with the power to destroy the humans once and for all.
Rare Bird Books, 9781945572685, 344pp.
Publication Date: December 19, 2017
About the Author
Adam Korenman is an author, screenwriter, and purveyor of artisanal marshmallows. He is the former Section Editor of CC2KOnline, co-founder of Thinking With Fire, and the Head Writer of Go Go Guppie Productions. When he isn't inventing nonsensical stories from atop a soap box in Downtown LA, he can be found at a local eatery aggressively ignoring his lactose intolerance. His debut seriesThe Gray Wars Sagais now available through California Coldblood Books, and wherever stories are sold. Adam lives in Los Angeles with his wife and lifetime supply of beans. You can follow him @officermankorn, and read his blog at www.adamkorenman.com.
or
Not Currently Available for Direct Purchase