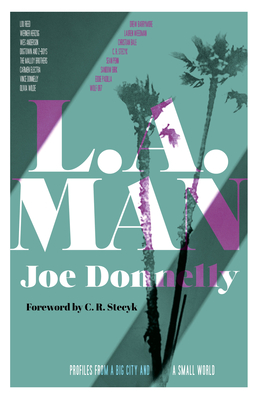 L.A. Man
Profiles from a Big City and a Small World
Paperback

* Individual store prices may vary.
Description
During his many years writing for publications such as LA Weekly, the Los Angeles Times, Slake, Surfer's Journal and more, Joe Donnelly has driven to Texas with Wes Anderson, shot pool with Sean Penn, surfed with Chris Malloy, sparred (verbally) with Christian Bale, gone on a date with Carmen Electra, and listened to tall tales told by Werner Herzog. These profiles, which also include encounters with Drew Barrymore, Lou Reed, Craig Stecyk, the wolf OR7, the Z-boys and others who have indelibly stamped the cultural landscape, drill through the facade of fame to get at the core humanity behind the myth-making. This collection manages to show Los Angeles' biggest export in a light in which it is rarely seen.

Rare Bird Books, 9781945572876, 240pp.
Publication Date: April 17, 2018
About the Author
Joe Donnelly is an award-winning journalist, writer and editor who lives in Los Angeles His short story "Bonus Baby", published in the spring/summer 2015 issue of Zyzzyva, is featured in the 2016 O. Henry Prize Stories Collection as one of the 20 best short stories of the year. His short story "50 Minutes", co-authored with Harry Shannon, was selected for The Best American Mystery Stories, 2012 and was recently made into a short film starring Stephen Tobolowsky and DJ Qualls. "The Lone Wolf, written for Orion, was a 2013 longreads.com editor's pick and a 2014 Pen Center USA Literary Awards Finalist for Journalism. His work has appeared in the Los Angeles Times, Los Angeles Review of Books, LA Weekly, Mother Jones, Huck, Orion, The Surfer's Journal, Washington Post, and other publications. Donnelly co-founded and co-edited Slake: Los Angeles, the acclaimed journal of long-form journalism, fiction, essay, poetry, photography and art. Slake made a dozen appearances on the Los Angeles Times' bestsellers list and work appearing in Slake earned numerous awards and recognitions, including multiple Best American series selections, Livingston Award finalists, PEN USA finalists, LA Press Club awards, Franco-American Foundation's Excellence in Immigration Reporting First Prize, and more. In 2014, Rare Bird Books published We Dropped A Bomb On You: The Best of Slake, I-IV. From 2002-2008, Donnelly was the deputy editor of LA Weekly. He is currently Visiting Assistant Professor of English and Journalism at Whittier College.