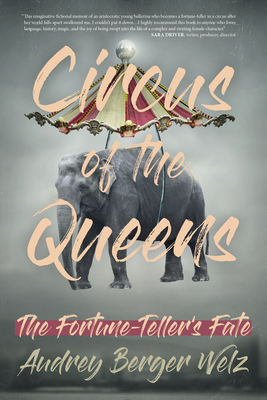 Circus of the Queens (Paperback)
The Fortune Teller's Fate
Rare Bird Books, a Vireo Book, 9781945572968, 320pp.
Publication Date: December 19, 2017
* Individual store prices may vary.
Description
From Imperial Russia to Savannah, Georgia and beyond, a circus family, a once aspiring ballerina, and a scorned lover set the stage and then draw the curtain to this saga of identity, fate, and the steps we take to find who we are in this world. Donatalia dances at the Winter Palace just as the Russian Revolution tears apart the life she thought she would have. Forced to leave her dreams behind for her own safety, she must move to a new world and begin a new life. Having lost family, fortune and country, she unexpectedly finds herself reuniting with Vladimir, heir to the most celebrated Russian circus, dazzling high-wire walker, and object of a long-forgotten crush she harbored as a child. Both struggling to let go of the past, they reconnect and share an intimacy only they can understand. Donatalia follows Vladimir and becomes the circus fortune-teller, and it is through her eyes that this story is told. A poetic adventure of revenge, love, and loss Circus of the Queens: The Fortune-Teller's Fate is a stunning debut from an exciting new talent and begs the question: how does one define herself when her whole world is lost?

About the Author
Audrey Berger Welz earned a degree in Aesthetic Studies from the University of California, Santa Cruz, worked in film in San Francisco, then moved to New York City to pursue music, where she collaborated with composers on projects for television, film, and live production. An avid photographer, she sings nightly to her husband and immerses herself in writing every day. Raised in Akron, Ohio by a salesman father who serenaded the family on violin and brought home stray animals, and a mother who taught kindergarten, Audrey lives in Manhattan with her husband and two very naughty shelter cats. Circus of the Queens: The Fortune-Teller's Fate, is her debut novel. She is currently writing a sequel titled Circus of the Queens: The Shadow of Lillya.