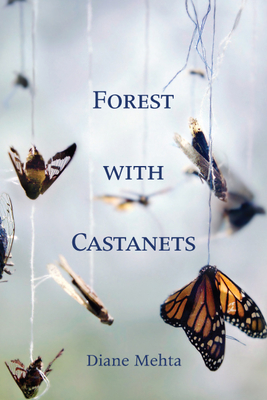 Forest with Castanets (Stahlecker Selections)
Paperback

* Individual store prices may vary.
Description
In her debut book of poems, knit together with personal essays, Mehta explores her own cultural history— Indian Jainism and American Judaism—as well as her ideas about faith, feminism, and family.
Praise For Forest with Castanets (Stahlecker Selections)…
"Candor and music are Diane Mehta's great strengths as an artist, and with them she brings fresh, stereotype-busting insight to subjects like ethnicity, marriage, sex, religion, the multiple, intertwined horrors and gifts of the past: the force of the storm and the answering force of human struggles and constructions. It's thrilling to read a poet who masters that range of material so lucidly, in her own distinctive way." —Robert Pinsky

". . . . Mehta, in Forest with Castanets, reminds us of just what striking poetry can emerge from an imagination disciplined and venturesome enough to take advantage of the rich, complicated histories that we are all given, and in doing this she manages to compose and sing the 'sea-chants of dead immigrants.' Diane Mehta is a poet of unquestionable skill and authority who has learned to ground her poems in the most intimate and difficult institution, the family." —Kwame Dawes

"In her innovative debut, Mehta explores the connection between place, memory, and sound, offering a vision of 'ex-colonial hills,' their 'songs lilting,' their 'repetitions hell.' Discrete poems and hybrid texts are unified by their vibrant sonic textures...." Read the full review.
— Publishers Weekly

"A beautiful book....Prose is tucked among her verse—I hope more poets follow her lead, and be generous with genre—making Forest with Castanets a uniquely arranged collection...." Read the full review.
— Nick Ripatrazone

"...For­est with Cas­tanets gives Mehta, and by exten­sion the read­er, time to move through the emo­tion­al moments that col­lect around a large event. This time is a kind­ness, one we are lucky to have Mehta share with us when life is so often cut short."
— Eliz­a­beth Dean­na Mor­ris Lakes
Four Way Books, 9781945588259, 110pp.
Publication Date: March 4, 2019
About the Author
Diane Mehta is the author of Forests with Castanets (Four Way Books, 2019). She has been an editor at PEN, Guernica, and A Public Space. Her poems have appeared in The Literary Review, Prairie Schooner, the Common, AGNI, Subtropics, Slate, Poetry, the Southern Review, Gulf Coast, BOMB, and the Harvard Review; her reviews and articles in the New York Times, Foreign Policy, the New Republic, the Atlantic Monthly; her essays and articles in the Paris Review Daily, the Believer, the Literary Review, VIDA, and the Rumpus. Her poems have been anthologized in numerous anthologies of South Asian writing in English, including the recent HarperCollins Book of English Poetry. She lives in Brooklyn.