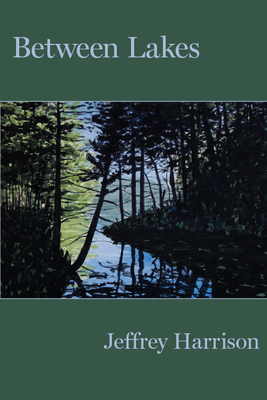 Between Lakes
Paperback

* Individual store prices may vary.
Description
How does consciousness inhabit liminal spaces? In Jeffrey Harrison's Between Lakes, the death of the speaker's father places him in the ever-shifting zone between the living and the dead while also sending him back into his journey to manhood. Old arguments are reimagined: What does it mean to be a man? What does it mean to be a participant in one's life as well as a witness and recorder of the lives of others? The exploration of these questions leads to new discoveries, including the way time reshapes the vision of one's life and alters relationships, remaking a shared history. Harrison refrains from explanation, instead offering detail after trustworthy detail—less to prove a case than to imagine a life true to the original. Whether observing nature with steadfast precision or sensing the presence of his absent father while doing chores, Harrison sings the songs of experience in late middle life.
Praise For Between Lakes…
"How refreshing to read whole poems about a whole life in which true dark is illuminated. Narrative is too easy a word for what Harrison does: he's a poet who follows through, who allows the arc of an experience to find its own landing point. The writing has that quality of being at one with the experience; no pushy hype or muscleshow, just the lean moment dealt with and, by implication, enlarged."
—Stanley Plumly

"In his sixth book, Harrison's eye—always ready to gift the world to readers—only becomes keener, seeing more within more, revealing more within a body of wit and want. And this particular collection has the magic elasticity to show the wide elliptical orbit of a lifetime's relationship between growing son and aging father."
--Jessica Greenbaum
Four Way Books, 9781945588532, 150pp.
Publication Date: September 8, 2020
About the Author
Jeffrey Harrison is the author of six previous books of poetry: The Singing Underneath, selected by James Merrill for the National Poetry Series in 1987; Signs of Arrival; Feeding the Fire, winner of the Sheila Motton Award from the New England Poetry Club in 2002; The Names of Things, a volume of selected early poems; Incomplete Knowledge, runner-up for the Poets' Prize in 2008; and Into Daylight, winner of the Dorset Prize, and selected by the Massachusetts Center for the Book as a Must-Read Book for 2015. He has received fellowships from the Guggenheim Foundation, the National Endowment for the Arts, and the Bogliasco Foundation, among other honors. His poems have appeared widely in magazines and journals, as well as in Best American Poetry, The Pushcart Prize Anthology, Poets of the New Century, The Twentieth Century in Poetry, and other anthologies, and been featured regularly on The Writer's Almanac, American Life in Poetry, Poetry Daily, and other online or media venues. He lives in Massachusetts.