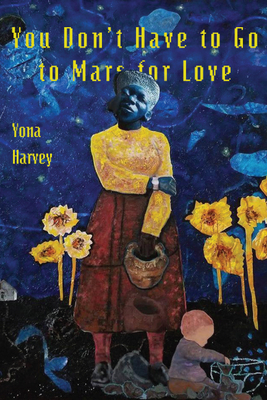 You Don't Have to Go to Mars for Love
Paperback

* Individual store prices may vary.
Description
The poems of award-winning poet Yona Harvey's much anticipated You Don't Have to Go to Mars for Love follow an unnamed protagonist on her multidimensional, Afro-futuristic journey. Her story stretches the boundaries normally constraining a black, female body like hers. Half-superhero, half-secret-identity, she encounters side-slipping, speculative realities testing her in poems that appear like the panels of a comic book. Music directs readers through large and small emotional arcs, constantly retroubled by lyric experimentation. Harvey layers her poems with a chorus of women's voices. Her artful use of refrain emphasizes the protagonist's meaning making and doubling back: "Who am I to say? The eye is often mistaken. Or is it the mind? Always eager to interpret." Our hero is captured, escapes, scuba dives, goes interstellar, and she emerges on the other end of her journey renewed, invoking the gods: "taunt the sharks. & when the glaciers get to melting, / all God's River's we shall haunt."
Praise For You Don't Have to Go to Mars for Love…
"This wondrous collection by Yona Harvey shows the pathos, pain, range and rage of a Black woman's knowing. Varying between understatement, definitive statement and the undertow of others' statements, Yona's poems ring clear and sneak up on you. Next thing you know, you're the frog and her waters, boiling."
—Tracie Morris

"Harvey (Hemming the Water) explores in her striking latest the relationship between freedom, social justice, and the lyric imagination. Spanning a variety of literary forms, from prose poems and lyric fragments to sonnets, the work in this frequently gorgeous collection is unified by its concern with cultivating and articulating a collective consciousness....Readers will be captivated by Harvey's voice and vision."
— Publishers Weekly

"Winner of the Kate Tufts Discovery Award, Harvey returns after seven years with a collection featuring an unnamed protagonist pushing the boundaries of her Black body while undertaking an Afro-futuristic journey—not surprising for a poet who claimed an Eisner Award for her contribution to World of Wakanda."

https://www.libraryjournal.com/?detailStory=blackvoicesmatter2020
— Barbara Hoffert

Featured in PageOne
— Poets & Writers Staff

"Yona Harvey's latest poems find love's ache in unusual places..." – Kristofer Collins, The Pittsburgh Post-Gazette
— KRISTOFER COLLINS

"Yona Harvey tugs at the boundaries of the page in her second poetry collection, You Don't Have to Go to Mars for Love. She challenges us on the capabilities and constraints inherent in the medium of writing...." – Cedric Rudolph, The Pittsburgh Book Review
— Cedric Rudolph
Four Way Books, 9781945588563, 88pp.
Publication Date: September 8, 2020
About the Author
Yona Harvey's first poetry book, Hemming the Water, won the Kate Tufts Discovery Award from Claremont Graduate University. She is among the first black women writers for Marvel Comics and earned an Eisner Award for her contribution to World of Wakanda. She co-authored Black Panther and The Crew with Ta-Nehisi Coates. She is a graduate of Howard University and earned her MFA from the Ohio State University and a Masters of Library and Information Science from the University of Pittsburgh where she is also an associate professor. She is the recipient of the Carol R. Brown Achievement Award from the Heinz Foundation and winner of the inaugural Lucille Clifton Legacy Award in poetry from St. Mary's College of Maryland. She facilitates creative writing workshops, delivers writing-specific speaker topics, and currently serves on the editorial board of Poetry Daily.