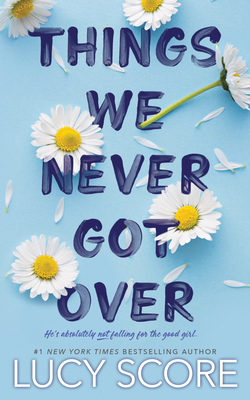 Things We Never Got Over (Knockemout Series)
Paperback

* Individual store prices may vary.
Description
Knox Morgan doesn't tolerate drama, especially in the form of a stranded runaway bride.
Naomi Witt is on the run. Not just from her fiancé and a church full of well-wishers, but from her entire life. Although if you ask her, Naomi's riding to the rescue of her estranged hot mess of a twin, Tina, to Knockemout, a rough-around-the-edges town where disputes are settled the old-fashioned way...with fists and beer. Usually in that order.
Too bad for Naomi, her evil twin hasn't changed at all. After helping herself to Naomi's car and cash, Tina leaves behind something unexpected: the niece Naomi didn't know she had. Now she's a guardian to an eleven-year-old-going-on-thirty with no car, no money, and no plan.
There's a reason this bearded, bad-boy barber doesn't get involved with high-maintenance women, especially not Type-A romantic ones. But since Naomi's life imploded right in front of him, the least Knox can do is help her out of her jam. And just as soon as she stops getting into new trouble, he can leave her alone and get back to his quiet, solitary life.
At least, that's the plan.
Bloom Books, 9781945631832, 560pp.
Publication Date: January 12, 2022
About the Author
Lucy Score is a Wall Street Journal and #1 Amazon bestselling author. Small town contemporary rom-coms are her lady jam and she enjoys delivering the feels with a huge side of happily ever after. Her books have been translated into several languages, making readers around the world snort laugh, swoon, and sob. Lucy lives in Pennsylvania with the devastatingly handsome Mr. Lucy and their horrible cat. In her spare time she enjoys sleeping, drinking copious amounts of coffee, and reading all the romance novels in the universe. Sign up for her never annoying newsletter at https://www.lucyscore.net/subscribe-lucys-newsletter-website/.