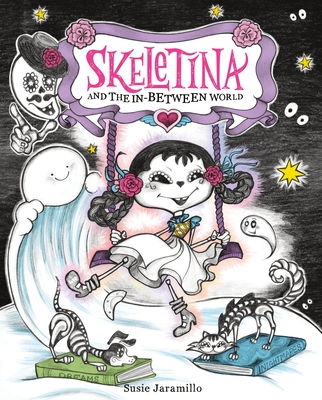 Skeletina and the In-Between World
Hardcover

* Individual store prices may vary.
Description
Meet Skeletina, a fun-loving, fearless little girl who lives in the in-between world with her friends, who include monsters, creatures, ghosts, and more. The upside-down, inside-out, in-between world is where the living go when they are fast asleep and where the dead hang out when they have unfinished business. Visitors who come to the in-between world are there to confront their fears or they come to see a loved one who has recently left the world of the living. Either way, Skeletina is there to help
Inspired by D a de los Muertos and perfect for fans of the hit movies
Coco
and
The Book of Life
,
Skeletina and the In-Between
world is the first book in a series that combines kooky characters and a spooky story with important and resonant themes about empathy, bravery, self-esteem, and the enduring power of love. Encantos, a creator platform that democratizes learning by connecting Storyteachers with kids, is on a mission to teach children the 21st century skills they need to thrive. We believe that kids need to learn a wide range of skills such as financial literacy and civics, compassion, critical thinking, and collaboration, as well as social-emotional skills like adaptability, grit, resilience, and mindfulness and each of our brands highlights specific 21st century skills that help prepare them to be empathetic, adult citizens of the world. We believe the best way to teach these skills is through Storyteaching--creating entertaining stories and worlds kids love, then imbuing these worlds with purpose and meaningful lessons. When kids' have their minds open and their hearts engaged, it's the best time to learn Visit encantosbrands.com to learn more.
Roaring Brook Press, 9781945635465, 32pp.
Publication Date: July 19, 2022
About the Author
Susie Jaramillo is an artist, a storyteller, an entrepreneur and a mom. An eternal student of cultures from around the world, she was born in Venezuela and raised between Caracas and Florida. At the age of 17, she moved to New York to study art at Pratt Institute where she honed her crafts in painting and printmaking, and she now resides in Brooklyn with her husband and two children. As a kid, she had nightmares frequently until she discovered that she was in control of her dreams. She created Skeletina to empower children like her to take control of their fears and be brave.