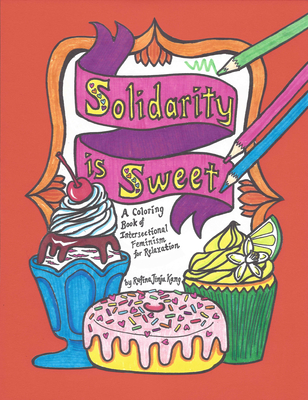 Solidarity Is Sweet
A Coloring Book of Sweets, Recipes & Intersectional Feminism for Relaxation
Paperback

* Individual store prices may vary.
Description
Solidarity is Sweet is a unique text-based coloring book that wields an endearing theme of sweetness to advocate for greater civic engagement, environmental responsibility, and intersectional solidarity. Each hand-drawn coloring page features a political quote paired with a tasty treat that has symbolic or cultural relevance. The accompanying commentaries include a checklist for responsible voting, and simple charts regarding systemic poverty, racism, sexism, and homophobia. Quoted activists include Susan B. Anthony, Gloria Steinem, Angela Davis, Paula Gunn Allen, Gloria Anzaldua, and Grace Lee Boggs.
Manic D Press, 9781945665264, 80pp.
Publication Date: April 6, 2021
About the Author
Rufina Jinju Kang is an underemployed, overeducated woman from a hardworking Korean-American family. She lives in Buffalo, NY, a Rust Belt city situated within Haudenosaunee territory that was historically of strategic importance to the Underground Railroad. A graduate of University at Buffalo and Cornell University, her interests include drawing, sewing, reading, writing, languages, cooking, teaching, and social justice issues. "Solidarity" is the most beautiful word she knows.