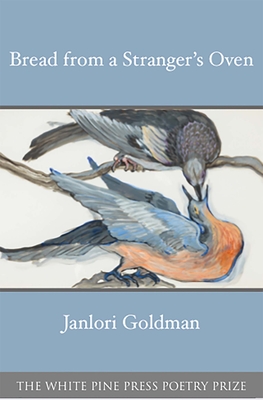 Bread from a Stranger's Oven (White Pine Press Poetry Prize #22)
Paperback

* Individual store prices may vary.
Description
"Through her fervent lyrics, delightful odes and image-rich narratives, Janlori Goldman invites us into her world--and it is a deeply moving one. With fluid, vivid clarity, she valiantly stares at the past, and faces the present with a compelling mix of temerity and tenderness. Hers is a remarkable voice that is all at once passionate and exquisitely subtle." --Laure-Anne Bosselaar, Poetry Contest Judge
"Seldom have I seen a book of poems so vital in its storytelling, so rich and precise in imagery and metaphor, and at the same time so full of heart and compassion." --Alicia Ostriker
"An intimate, tender voice tells of a life of sensual gladness, as well as loneliness and grief. The poems most often pay attention to neglected people and neglected truths, often neglected moments, often in the beauty of the earth." --Jean Valentine
From "At the Cubbyhole Bar":
When the planes hit, you were there,
saved your men, the whole squad,
and they weren't even yours.
A buddy had asked you to cover his shift
so he could spend the day with his kid.
You say, All the guys are getting cancer,
in the lungs, the stomach, in your case the breasts.

That morning, after the buildings buckled,
a brown skirt of cloud billowed up.
You saw her, a bleached blond
in purple satin shirt, no body
below the waist, thought how a human head
weighs 8 pounds, lifted that weight
of a newborn, and then the rest. Zipped the bag.

You wanted to be a cop
because you hated cops,
wanted to be that power.
At the Canal Street barrier a lady pleaded
to run home, get her dog--
you said, No one below Canal--
but she promised the risk was all on her.
You knew it didn't work that way,
spoke into her face, Come back
with that dog, bring him this way
so he can lick my cheek.
Janlori Goldman is a poet, teacher, and activist.
White Pine Press (NY), 9781945680069, 102pp.
Publication Date: September 19, 2017
About the Author
Janlori Goldman: Janlori Goldman is a poet, teacher and activist. Bread from a Stranger's Oven is her first full-length book. Her chapbook "Akhmatova's Egg" was published by Toadlily Press. Gerald Stern chose her poem 'At the Cubbyhole Bar' for the 2012 Raynes Prize.