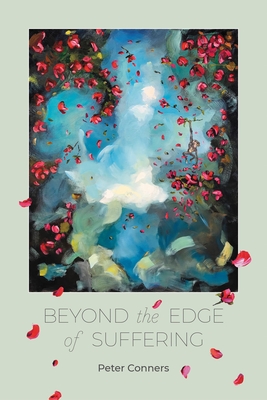 Beyond the Edge of Suffering
Prose Poems
Paperback

* Individual store prices may vary.
Description
Prose poems and flash fictions revealing the heart-wrenching, absurd, life-changing nature of living through Covid, political chaos, and personal upheaval.
Peter Conners' unique blend of prose poetry, flash
fiction, and other spare poetic forms pays witness to the heart-wrenching,
absurd, life-changing nature of surviving a global pandemic during one of the
most politically and culturally divisive times in American history. As a
divorced father living in a blended family with 4 children, navigating a new
marriage, and also caring for elderly parents, pandemic restrictions and their
attendant scary weirdness hit hard. After a decade of publishing highly regarded
nonfiction books about music and counterculture, Conners knew that only poetry
could do these strange days justice. The result is Conners' first prose poetry
collection in a dozen years. Moving from raw personal poems like "One of you
went" and "My father wanders" to overt political rants "The beaches are filled"
and "Welcome to the last" to comically absurd flash fictions like "Superhero"
and "Hello, my name is Larry" to meditations on relationships ("A small house;"
"The old husband") and spirituality ("If each martyr;" "Love everyone"),
Conners strikes all the rich notes that illustrate our humanity, desire for
love and connection, and striving for a rebirth that awaits just beyond the
edge suffering.

"Part Tao, part surrealist dialogue, Peter Conners has penned a book of precise yet effusive runes from the well-gnawed bones of a man reflecting upon his family and nation at midlife. Here we have poet as citizen, philosopher, father, humorist, husband, we have the pandemic (in actuality and as metaphor), we have passing time, memory, 'our whole dumb history, ' the theater of self with its 'copious technical difficulties.' These are minimalist and thin-trimmed parable-like stories, dialogues, and beautiful confessions that in the end haggle down the price we've paid through the last brutal years, encouraging the reader to take our problems and 'Feed them to the squirrels. Those little fuckers will eat anything.'"
--Sean Thomas Dougherty
"What you know after reading only a handful of these poems is that they have the ease, and share the privileges, of being loved and cared for by a master -- not as common a thing in American poetry as you might think. This is an end-of-days story for precisely our times, presented formally in a fluid blending of at least three distinct genres, managing to celebrate them all to rich effects. These poems capture a litany of almost microscopic moments, resolute in how they are illustrative of our stunningly particular days. I love this book and I want you to read it if you care about looking closely at who we are by looking at who we have been."
--Bruce Weigl "
Beyond the Edge of Suffering
goes beyond life's edges, and not only in suffering. This brilliant collection by Peter Conners is a genius book of our times, with masks and viruses, nasal sprays, elixirs, diseases, and exams. It is deep and poignant, with lovely and surprising sparks of humor: a tiny porcelain woman, plays in language: bodies, memories, dreams. Diamonds. Martyrs. Prayers and non-prayers. Genesis and ribs. Fathers and mothers and a son and daughter. Crying Superheroes. Weeping willows. Mosquitos and monkeys and the highest house number in America. This collection is so holy-ghostingly good, it will continue to stay with you."
--Kim Chinquee
Peter Conners
is the author of ten books of poetry, nonfiction and fiction, including the prose poetry collections,
Of Whiskey and Winter
, and
The Crows Were Laughing in Their Trees
. He also edited the ground-breaking prose poetry/flash fiction anthology
PP/FF: An Anthology
, as well as an issue of
American Book Review
dedicated to prose poetry/flash fiction, and was founding editor of
Double Room: A Journal of Prose Poetry and Flash Fiction
. In his nonfiction books, he has documented music and countercultural communities in such books as
Growing Up Dead: The Hallucinated Confessions of a Teenage Deadhead; JAMerica: The History of the Jam Band and Festival Scene; Cornell '77: The Music, The Myth, and the Magnificence of the Grateful Dead's Concert at Barton Hall
; and
White Hand Society: The Psychedelic Partnership of Timothy Leary & Allen Ginsberg
. His books have been published by White Pine Press, Da Capo Press, City Lights, Cornell University Press, Starcherone Books, and Marick Press. He lives with his family in Rochester, NY where he works as Publisher and Executive Director of the award-winning independent publishing house BOA Editions. His website is: www.peterconners.com
White Pine Press (NY), 9781945680519, 100pp.
Publication Date: April 12, 2022
About the Author
Peter Conners is the author of ten books of poetry, nonfiction and fiction, including the prose poetry collections, Of Whiskey and Winter, and The Crows Were Laughing in Their Trees. He also edited the ground-breaking prose poetry/flash fiction anthology PP/FF: An Anthology, as well as an issue of American Book Review dedicated to prose poetry/flash fiction, and was founding editor of Double Room: A Journal of Prose Poetry and Flash Fiction. In his nonfiction books, he has documented music and countercultural communities in such books as Growing Up Dead: The Hallucinated Confessions of a Teenage Deadhead; JAMerica: The History of the Jam Band and Festival Scene; Cornell '77: The Music, The Myth, and the Magnificence of the Grateful Dead's Concert at Barton Hall; and White Hand Society: The Psychedelic Partnership of Timothy Leary & Allen Ginsberg. His books have been published by White Pine Press, Da Capo Press, City Lights, Cornell University Press, Starcherone Books, and Marick Press. He lives with his family in Rochester, NY where he works as Publisher and Executive Director of the award-winning independent publishing house BOA Editions. His website is: peterconners.com