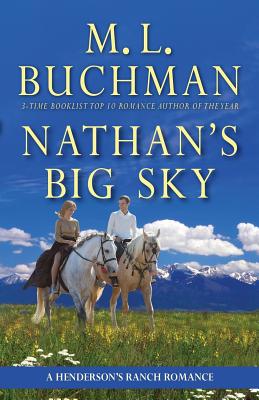 Nathan's Big Sky (Paperback)
A Henderson's Big Sky Romance
Buchman Bookworks, Inc., 9781945740176, 252pp.
Publication Date: February 13, 2017
* Individual store prices may vary.
Description
Nathan's Big Sky-Book 1 in the Henderson's Ranch series
Chef Nathan Gallagher's escape from New York City lands him in the most unlikely of places: Montana. With his past dumped and his future unknown, he seeks something new. If only he knew what. Former rodeo star and born-and-bred cattle rancher.
Julie Larson loves the prairie and the horses. The ranch work with her three brothers? Not so much. The local cowboys labeling her as a Grade-A Prime catch? Even less. When she rescues a lost chef, her future and her heart change past all imagining. The only place a New York chef's future and a Montana cowgirl's heart can thrive-under Nathan's Big Sky.
About the Author
M. L. Buchman has over 50 novels and 40 short stories in print. Military romantic suspense titles from his Night Stalker, Firehawks, and Delta Force series have been named Booklist "Top 10 Romance of the Year": 2012, 2015, & 2016. His Delta Force series opener, Target Engaged, was a 2016 Romance Writers of America RITA finalist. In addition to romance, he also writes thrillers, fantasy, and science fiction. In among his career as a corporate project manager he has: rebuilt and single-handed a fifty-foot sailboat, both flown and jumped out of airplanes, and designed and built two houses. Somewhere along the way he also bicycled solo around the world. He is now making his living as a full-time writer on the Oregon Coast with his beloved wife and is constantly amazed at what you can do with a degree in Geophysics. You may keep up with his writing and receive a free 4-novel starter e-library by subscribing to his newsletter at: www.mlbuchman.com.