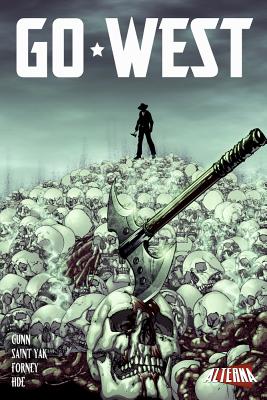 Go West (Paperback)
Alterna, 9781945762161, 96pp.
Publication Date: August 1, 2018
* Individual store prices may vary.
Description
When a group of outlaws murders Slade's family, he embarks on a hell-bent mission of revenge. Slade vows to hunt down every member of The Savages and tear their entire organization to the ground. Even if it means he has to cross the border into the western regions to do it. Even if it means he has to go west.
About the Author
Garrett Gunn is an occasionally talented writer of comics, graphic novels, short films, and games. CEO of Geekery Magazine and creator/writer of Go West and The Fear Diaries. Saint Yak is a comic artist from Russia. His work has appeared in numerous comic books and graphic novels from a wide assortment of publishers.
Praise For Go West…
"The book is entertainingly gory and a bit absurd, as when a tomahawk chop slices a man's head in two horizontally. At its best, Go West pulls up just short of self-parody, and Saint Yak's art delivers the violence with flair." —Peter Dabbene, Foreword Reviews