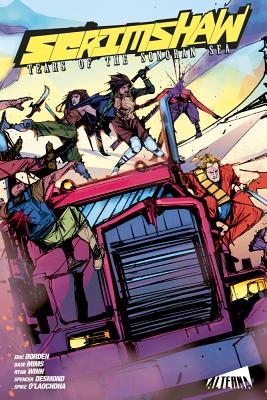 Scrimshaw (Paperback)
Tears of the Sonoran Sea
Alterna, 9781945762734, 128pp.
Publication Date: December 11, 2019
Other Editions of This Title:
Paperback (5/3/2017)
Paperback (8/8/2018)
* Individual store prices may vary.
Description
The crew of the Runaway Horse set sail for the West, undertaking a mission to repay their debt to the Tanto Corporation. In order to secretly make their way into the New Republic of Texas, the crew must enlist the help of Mariposa's sister, Salome, who sits at the head of the fearsome Playa Rojo Cartel. Salome agrees to help them cross a massive and treacherous desert, the Sonoran Sea. But first the crew must aid the cartel on a daring raid to plunder a convoy of trucks. Meanwhile, Baron de Carvalho and King Billy doggedly pursue the group under the order of The Fox to capture the head of Captain Hans Tanaka. Their fate hangs in the balance when they must make a desperate decision: take their prize and square the debt or rescue Salome and take care of family.
About the Author
Eric Borden is the author of one book, many shorts, a few features (Blood Game, Fever) and a number of comic books (Blood Game, Dead West). His feature film Fever is currently in development with Blanc-Biehn Productions. Dave Mims is a graphic artist with more than ten years experience. He has worked as lead artist on the comic books, The Infected and All Hallow's Eve. Spike O'Laochdha is the letterer of Scrimshaw. Most recently, his projects have included Dirty1/2Breed Comics' Gs and Subject D-17, BL Dwyer's The Searcher, and his solo project Clockwork, a family drama in the style of action manga.