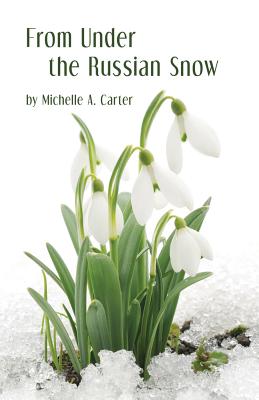 From Under the Russian Snow (Paperback)
Bedazzled Ink Publishing Company, 9781945805448, 210pp.
Publication Date: September 1, 2017
* Individual store prices may vary.
Description
A memoir from Russia's bubble of freedom in the pre-Putin era.
Michelle Carter at age fifty, married and the mother of two children in their early twenties, left her job as managing editor of a suburban daily newspaper in the San Francisco Bay area in 1995 to move to Russia for a year as a United States Information Agency Journalist-in-Residence.
There she traveled across the eleven time zones of this complex country, working with newspaper editors who struggled to adapt to the new concepts of press freedom and a market economy. She became an on-the-scene witness to the second great Russian revolution. She viewed Russia from her flat on the embankment of the Moscow River and from her sometimes humorous shoulder-to-shoulder participation in the life of the largest country in the world.
At the same time, she embarked on a personal journey that wrenched her life in a way she could never have anticipated when she accepted her husband's challenge to take this assignment and culminate her eight years of work and travel in the former Soviet Union.
About the Author
Michelle A Carter is a professional journalist with a 30-year career in daily newspapering and a 12-year stint as a journalism instructor at Notre Dame de Namur University in Belmont, California. From Under the Russian Snow is the second book to grow out of her experiences in the former Soviet Union. The first, Children of Chernobyl, was co-written with Michael J. Christensen.
Praise For From Under the Russian Snow…
"From Under the Russian Snow reflects in its title a symbol of the awakening of Russia, the time of hope, expectation and enthusiasm of the people who had never experienced freedom. Michelle Carter came to Russia at this turbulent and exciting period and generously shared with us her knowledge of how to shed the mental fetters of the past. Michelle was not an outsider or just a visitor; she was one of us. She is a talented educator, sensitive and understanding woman and a keen observer. The book she has written depicts with love and sympathy the attempts to build a new Russia. It's about love, life and tragedy—hers and ours." — Anna Sharogradskaya, Director, Regional Press Institute, St. Petersburg, Russia

________________________________________

"Michelle Carter's writing is always crisp and evocative, and her work with the children of Chernobyl was nothing less than heroic." — Congresswoman Jackie Speier (CA-14)

________________________________________

"I know that you have come to the close of your time as professional-in-residence at the Russian-American Press and Information Center and will shortly return to the United States. I would like to take this opportunity to thank you for the many contributions you have made during your tenure at RAPIC toward bettering Russian journalists' understanding of how a free press works in a democratic society. The book you just published on newspaper design and layout is an impressive result of your time in Russia.

"I would also like to thank you for your dedication to your position, despite the enormous loss you suffered this summer. During a time of personal tragedy, you remained committed to your work here. That is both remarkable and truly commendable . . ." — Thomas R. Pickering, Ambassador to Russia, Embassy of the United States, Moscow, Russia, November 14, 1995