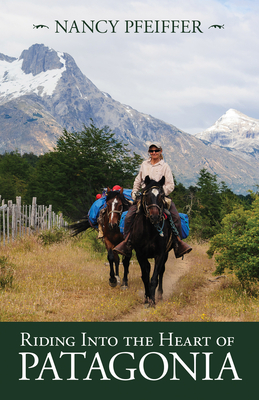 Riding Into the Heart of Patagonia (Paperback)
Bedazzled Ink Publishing Company, 9781945805677, 250pp.
Publication Date: May 4, 2018
* Individual store prices may vary.
Description
Beside a rain-swollen river in Patagonia, a man approached on a horse. His mount, a rusty red beauty, sported the short-trimmed mane and neatly squared-off tail of a well-kept horse. The man wore goatskin chaps, a woolen poncho, and the jaunty black beret typical of the region. This pair belonged to this place in a way I could only dream of.
The man stared at us. We were up to our knees in mud and dwarfed by huge backpacks. It was apparent we had money, but we had no horses.
"Por qu no tienes caballos?" he asked as he rode into the river.
At that moment I knew. I wanted to travel this country like the people who lived there. I wanted to know this place as only one on horseback could.
As a novice horsewoman, Nancy Pfeiffer took off across Patagonia alone on horseback. Over the next two decades and three thousand kilometers of rugged horse trail, the hospitable people who live there took her in, and Patagonia slipped silently into her soul. As if watching a beloved child grow up, Nancy bore witness to the subtle, yet disturbing, changes barreling down on Patagonia.
About the Author
A lifelong adventurer and outdoor educator, Nancy Pfeiffer has traveled from Antarctica to the Arctic Ocean. Her published works range from poetry to scientific research, exploring subjects from the joys and frustrations of building a house as a single woman to mountaineering for paraplegics. Nancy lives with her husband Fredrik in a cabin outside Palmer, Alaska.