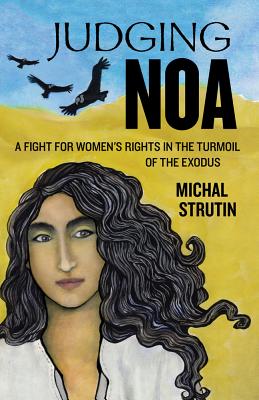 Judging Noa
Paperback

* Individual store prices may vary.
Description
Noa, at sixteen, sets out with the twelve tribes of the Exodus, dreaming of a life of freedom and the Promised Land that her father says will be theirs. When religious fanatics kill her father, Noa and her four sisters are in danger of being sold into bondage. Noa vows to win women's rights of inheritance to protect her sisters and herself. Pleading her case before ever-higher courts, Noa encounters a malicious judge and the dark side of power.



Gaining strength and complexity as she approaches the highest judge, Noa and her pursuit causes turmoil among the tribes: she is a notorious troublemaker, accused of witchery. And she is heroic. Based on a few biblical verses, the turbulence of Noa's life is set against the sweeping turbulence of the Exodus. In Judging Noa, her quest for justice is a journey that has as much meaning today as it did then.
Praise For Judging Noa…
"Strutin authored a nonfiction book on the flora and fauna of Israel and succeeds very well in depicting both the Biblical landscape and women's lives in this novel. Noa, her sisters, and even minor figures are well-rounded characters. I enjoyed experiencing the Bible stories about the Exodus from a different, female point of view." —B. J. Sedlock, Historical Novels Review

"It will certainly help a prospective reader to be familiar with the plot of the Book of Exodus, at least in vague terms. That said, there's a great deal of interpersonal drama and intrigue that will keep even nonreligious readers engaged in the tale of Noa's sheep-herding family. A good choice for readers who love historical tales of strong-willed women." —Kirkus
Bedazzled Ink Publishing, 9781945805745, 260pp.
Publication Date: April 1, 2018
About the Author
Michal ​Strutin is an award-winning author of eight books on natural and cultural history, including Places of Grace: the Natural Landscapes of the American Midwest, Discovering Natural Israel, and two volumes of Smithsonian Guides to Natural America. Her articles on travel and natural and cultural history have appeared in the New York Times, Los Angeles Times, Tablet, Outside, Rolling Stone, and other newspapers and magazines.