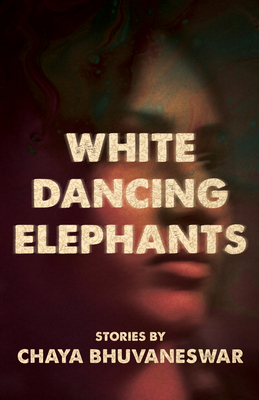 White Dancing Elephants
Paperback

* Individual store prices may vary.
Other Editions of This Title:
Digital Audiobook (10/8/2018)
Compact Disc (10/9/2018)
MP3 CD (10/9/2018)
Compact Disc (10/9/2018)
Description
Best Books of 2018 Kirkus Reviews (debut and short fiction categories)
Best Books of 2018, Entropy Magazine
A Book Club selection for The Wing, Rebel Women's Lit and Bookish.com
35 over 35 Debut Fiction Award
Finalist for the 2019 PEN American Robert Bingham Prize for Debut Short Story Collection
Chaya Bhuvaneswar's debut collection maps with great assurance the intricate outer reaches of the human heart. What a bold, smart, exciting new voice, well worth listening to; what an elegant story collection to read and savor.
-Lauren Groff, author of
Florida
Stunning, evocative, electric...an exuberant collection.
-Kirkus Reviews (starred) A woman grieves a miscarriage, haunted by the Buddha's birth. An artist with schizophrenia tries to survive hatred and indifference in small-town India by turning to the beauty of sculpture and dance. Orphans in India get pulled into a strange "rescue" mission aimed at stripping their mysterious powers. A brief but intense affair between two women culminates in regret and betrayal. A boy seeks memories of his sister in the legend of a woman who weds death. And fragments of history, from child brickmakers to slaves in Renaissance Portugal, are held up in brief fictions, burnished, made dazzling and unforgettable. In seventeen remarkable stories, Chaya Bhuvaneswar spotlights diverse women of color--cunning, bold, and resolute--facing sexual harassment and racial violence, and occasionally inflicting that violence on each other. Winner of the 2017 Dzanc Short Story Collection Prize,
White Dancing Elephants
marks the emergence of a new and original voice in fiction and explores feminist, queer, religious, and immigrant stories with precision, drama, and compassion.
Praise For White Dancing Elephants…
Praise for White Dancing Elephants
Named a Best Book by:
Elle, Entertainment Weekly, Kirkus (Fall Most Anticipated Books), Literary Hub, Huffington Post, Buzzfeed, Harper's Bazaar, Southern Living, Vulture, The Millions, New York Post, The Rumpus, Washington Independent Review of Books, Book Riot, Book Reporter, NPR, My Domaine, Culture Trip, Urban Daddy, Bustle, Bookish, and San Francisco Chronicle

Winner of the Dzanc Books Short Story Collection Prize 2017

"Bhuvaneswar's debut story collection, already eliciting praise from the likes of Lauren Groff and Jeff VanderMeer, explores urgent themes of sexual harassment and racial violence through a poetic lens, exploring a cast of marginalized characters and infusing them with bracing life."
—Entertainment Weekly

"Chaya Bhuvaneswar proves to be an evocative new voice in feminist fiction…The stories are really brilliant. They're breathtaking in a way that forces me to pause between each one and just sit with the endings for a bit."
—Elle

"(T)he biggest surprise in White Dancing Elephants is its core of hope and compassion. From two women having an affair that puts them in danger, to a slave in Renaissance Portugal who learns that sacrifice is sometimes the only way to save what we love, this collection is full of anguish, yet packed with optimism and courage. Bhuvaneswar is unflinching about the lives of those for whom identity is a constant battle and the act of being is an unavoidable challenge, but she doesn't ignore the beauty in their strength…White Dancing Elephants is a necessary book — and one that introduces a gifted voice to contemporary literature."
—National Public Radio (NPR)

"[A] pleasingly devious streak, at times reminiscent of Patricia Highsmith, winds through the collection, offsetting the latent melodrama. Shocking late twists and disclosures furnish a sense of unpredictability ... [A] compulsively readable debut."
—Sam Sacks, Wall Street Journal

"How free is anyone, driven as we are by impulses deeper than thought, moving through inextricably connected societies? This debut author has created a host of original scenarios through which to probe this vital question—a question that's both a long-running conversation between East and West and one of the intractable problems of the human condition."
—Los Angeles Times

"Chaya Bhuvaneswar is a *force* in her provocative debut short story collection White Dancing Elephants. These stories center on women of color who resist easy categorization — a therapist who is drawn to but disgusted by her young patient, a scholar desperate to justify her affair with her terminally ill best friend's husband, a woman remembering the girlfriend she abandoned when she accepted her arranged marriage. Bhuvaneswar fully inhabits them, breathing life into their dissonant, beautiful, complete selves. Reading it is a thrill, sure to leave you breathless."
—Buzzfeed

"Chaya Bhuvaneswar's debut collection maps with great assurance the intricate outer reaches of the human heart. What a bold, smart, exciting new voice, well worth listening to; what an elegant story collection to read and savor…"
--Lauren Groff, author of Florida

"In this evocative debut short-story collection, Bhuvaneswar pulls readers deep into the psyches of women who are vulnerable and lost, dangerous and clever: a woman clinging to denial over her miscarriage, an artist with schizophrenia, two women in a doomed love affair."
—Huffington Post

"Consider Bhuvaneswar one of the most original feminist voices in literature—you need to add this short story collection to your cart stat."
—My Domaine

"You can't miss this bold debut short story collection, which spotlights queer, religious, and immigrant stories about a diverse array of women all over the world. From a South Asian scholar trying to justify her affair with her terminally ill best friend's husband, to a woman who is haunted by Buddha's birth as she grieves a miscarriage, each one of these stories will reach deep into your heart."
--Bustle (Best 11 Books of October)

"Read White Dancing Elephants. Short stories, enduring issues. Women both endure violence and wield it against one another in Chaya Bhuvaneswar's debut collection of 17 stories about sexual harassment, a therapist obsessed with her new client, mourning a miscarriage, and more."
--Vulture (Best books chosen by Novelists; Best Fall Books; What to do Sept 30-Oct 15)

"Debut Winner of the Dzanc Books Short Story Collection Prize, this volume proves its worth from the start with an affecting piece about a woman wandering about London, having just lost the baby she was carrying. From exploited orphans in India and slaves in Renaissance Portugal to Jagatishwaran ("lord of worlds"), trapped in a corner room by mental illness and parental concern but looking outward, and a young boy wondering of his vanished sister "Where did go? But also: How do I bear it, that she left for good?" even as he reads the fable of a woman bargaining with Death over the husband he sent her, imagination is key. Yet the stories remain firmly grounded in physical detail, boldly exploring moments of oppression and violence, and Bhuvaneswar's persuasive, readable style will keep readers absorbed. VERDICT A strong collection from a writer on the rise."
--Library Journal

"Bhuvaneswar's compelling stories portray diverse characters grappling with shifts in their lives, the complications of their actions, and the impacts of others...a striking collection."
--Booklist

"Bhuvaneswar tackles the intricate interactions of race, class, and sexuality in this enticing debut... The political charge of each relationship is reinforced by Bhuvaneswar's articulation of the simmering drama created by them...The collection is sharp and provocative, and Bhuvaneswar's voice rings true."
--Publishers Weekly

"The 17 stories in this debut collection take place around the world, exploring queer and interracial love, extramarital affairs, and grief over the disappearances of loved ones. The book provocatively probes the aftermath—the aftermath of death, of grim diagnoses, of abandonment, of monumental errors in judgment. Passages jump back and forth in time to dissect how the consequences of a fraught event shape and unravel the lives of innocent casualties....An exuberant collection."
--Kirkus Reviews (*STARRED REVIEW*)

"A magnificent collection of stories that defy conventions, stereotypes, and reveal the universal complexity we all share as humans—gifted and flawed individuals, who struggle to reconcile the mixed signals of our own hearts."
--Jamie Ford, author of Hotel on the Corner of Bitter and Sweet
Dzanc Books, 9781945814617, 208pp.
Publication Date: October 9, 2018
About the Author
Chaya Bhuvaneswar is a physician and writer with work in Narrative Magazine, Tin House, Electric Lit, The Millions, Joyland, Michigan Quarterly Review and elsewhere. Her poetry and prose juxtapose Hindu epics, other myths and histories, and the survival of sexual harassment and racialized sexual violence by diverse women of color. She has received a MacDowell Colony fellowship, Sewanee Writers Conference scholarship and Henfield award for her writing. Follow her on Twitter at @chayab77 including for upcoming readings and events.