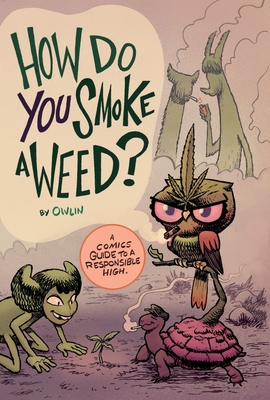 How Do You Smoke a Weed?
Paperback

* Individual store prices may vary.
Description
"After all this time, I can finally smoke a weed But . . . where do I even begin?"
Sprout, a wee babe of a Weeping Giant Sequoia, is psyched to smoke marijuana for the first time. But she stumbles on her first obstacle right away: she has no idea what she's doing A trio of helpful (and more mature) sequoias give her a dried cannabis flower and send her on a delightful journey of discovery. The forest is alive with wizened old animals who know the laws and customs, the history and science, and all the ins and outs of America's increasingly legal pastime. HOW DO YOU SMOKE A WEED? is both a fun storybook quest and a practical how-to for the novice weed smoker
With marijuana decriminalized or legalized in 26 states and Washington, DC, dispensaries popping up everywhere, and experienced users openly rejoicing, it can be hard for the marijuana newbie, cowed by years of Just-Say-No disinformation, to find your way. Written by experienced, conscientious users and presented in an easy-to-read comic book format, HOW DO YOU SMOKE A WEED? fills that gap. Perfect for the cannabis-curious, and with new insights for the veteran smoker.
Iron Circus Comics, 9781945820168, 80pp.
Publication Date: April 23, 2019
About the Author
Lin Visel and Joseph Bergin III have worked on creative teams across a wide variety of genres and comics publishers, and they create their own sex-positive comics together as Owlin. These include SuperTwomp, Balst, and Welter Hitch, all available through Slipshine. More of their work can be found at OwlinComics.com.