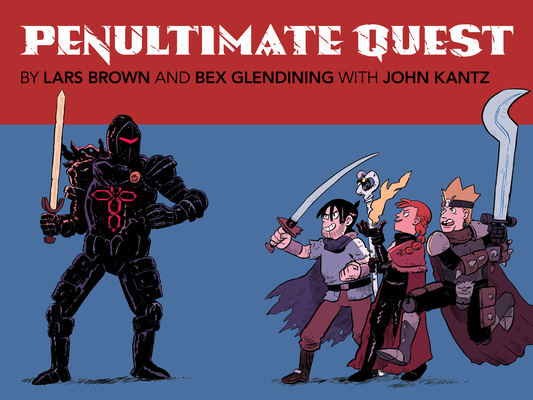 Penultimate Quest
Paperback

* Individual store prices may vary.
Description
What begins as a twisty fantasy adventure ends as a call to action. -- SCHOOL LIBRARY JOURNAL, Starred Review
Utterly surprising in its construction and philosophical scope. -- BOOKLIST, Starred Review
Complex, challenging, and ultimately rewarding. -- KIRKUS
"Why are we going down there, anyway; some mystery to uncover, treasure to find? Why are we here?"
Far across the Western Ocean on a mist-shrouded island guarded by giant sea monsters, heroes come to explore the mysterious dungeons that lie below the surface. None have yet to reach the bottom and return to tell the tale. Each party gathers daily for a new round of potion-making, sword-sharpening, armor-buying, and dungeon-crawling, and after hours of leveling up in dangerous battles with monstrous creatures from the depths, they rest and try again the next day when everything repeats. That is, until one adventurer stops to ask why. Is it endlessly exciting, or simply endless?
In a witty, genre-defying tale of magic, mystery, and philosophy, brave warriors must learn the difference between diversion and escape as they try to break the cycle of a penultimate quest in which the final fantasy never arrives.
Iron Circus Comics, 9781945820502, 352pp.
Publication Date: October 6, 2020
About the Author
Lars Brown is a comic book author who lives in a small house with several other humans and animals in north Idaho. He is also the author of North World with Oni Press and several short stories in anthologies from Image Comics, New Reliable Press, and the LavaPunch collective. He is a self-taught artist but has a degree in History from the University of Idaho. He has had 20 jobs which include movie theater projectionist, substitute teacher, and quality control at a stamp factory. Bex Glendining (she/they) is a U.K.-based illustrator and comics colorist. Bex has worked with clients such as Lion Forge, Penguin Random House, and Canterbury Christ Church University. They have also contributed to several zines and anthologies, including Name and None, Faerie Fire: A 5e Supplemental, Ghibli Zine, and Fortitudo (the Dorian Pavus art book). When not working, they can usually be found fussing their cat, playing games, or buying new plants.