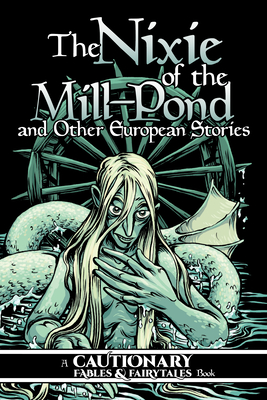 The Nixie of the Mill-Pond and Other European Stories
Paperback

* Individual store prices may vary.
Description
"Wait until the full moon rises, sit at the bank and play a beautiful tune. Then you will see what happens."
Giant beanstalks, trickster cats, magic pipers, royal werewolves, marauding trolls, and wooden battle spoons? You may think you know where these are going but take another look; your favorite European folktales are refreshed, rebooted, and totally reimagined in this high-spirited and hilarious comics collection
This third volume of the "Cautionary Fables and Fairytales" graphic novel series is a wildly unexpected romp through some of Europe's most famous fables and lesser known favorites, spanning the realm from sly humor to dark fireside tales and everything in between. Featuring the work of CARLA SPEED McNEIL, MARY CAGLE, K.C. GREEN, KATIE SHANAHAN, and more
Iron Circus Comics, 9781945820540, 200pp.
Publication Date: May 26, 2020
About the Author
Editor Kel McDonald has been working in comics for over a decade--most of that time has been spent on her webcomic Sorcery 101. More recently, she has organized the "Cautionary Fables and Fairytales" anthology series while contributing to other anthologies like Dark Horse Presents, Smut Peddler, and Sleep of Reason. She has also worked on Buffy: The High School Years. She recently finished a creator-owned series, Misfits of Avalon and the Eisner nominated Stone King. She's currently working on her self-published series, The City Between. Her work can be found at kelmcdonald.com. Editor Kate Ashwin has drawn and written over 1,000 pages of webcomics since 2002. Her most current project is the award nominated Victorian-era adventure story Widdershins, which is currently on its eighth Kickstarter-funded volume. Kate has also contributed to, co-edited, and provided Kickstarter support to the "Cautionary Fables and Fairytales" books, written a story for Dark Horse Presents, and contributed artwork to critically-acclaimed kids' weekly comic The Phoenix. Full Creator Listing: Kate Ashwin, Kory Bing, Mary Cagle, K.C. Green, Joe Pimenta, Kel McDonald, Katie and Shaggy Shanahan, and Lin Visel