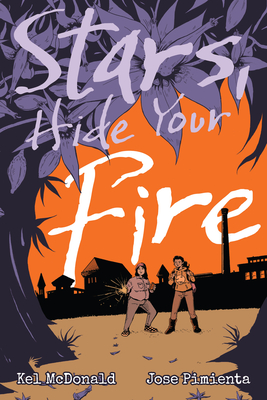 Stars, Hide Your Fire
Paperback

* Individual store prices may vary.
Description
"A resonant graphic novel about the price of growing up--or avoiding it." -- FOREWORD
"Strongly recommended for fans of dark fantasy and YA graphic novels." -- CEMETERY DANCE

Andrea and Darra live in a dead-end Massachusetts town, making their way through high school with hopeful (but slim) dreams of escape. Everything's going according to plan until a chance encounter with an otherworldly spirit named Carmen changes everything

Carmen promises Andrea eternal life, but a mysterious young boy named Liam shows up claiming he had also made a deal with Carmen, and it didn't go well . . . 100 years ago. Liam must convince his new friends of Carmen's evil nature before Andrea is tricked into a supernatural bargain that will upend her new life before it even starts.
Iron Circus Comics, 9781945820892, 162pp.
Publication Date: October 5, 2021
About the Author
Kel McDonald has been working in comics for over a decade--most of that time has been spent on their webcomic Sorcery 101. More recently, they have organized the Cautionary Fables and Fairytales anthology series while contributing to other anthologies like Dark Horse Presents, Smut Peddler, and Sleep of Reason. They've also worked on Buffy: The High School Years and recently finished a creator-owned series, Misfits of Avalon, and the Eisner-nominated Stone King. Kel is currently working on the self-published series, The City Between. Their work can be found at kelmcdonald.com. Jose Pimienta was raised in Mexicali, Baja California, and now resides in Los Angeles where they work on comics and storyboards for animation and film. They're the author of the graphic novel Suncatcher from Penguin Random House.