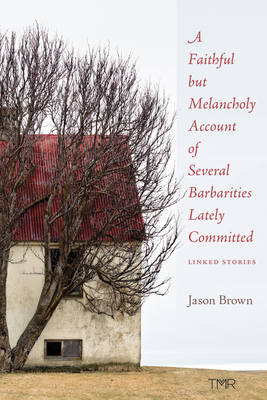 A Faithful But Melancholy Account of Several Barbarities Lately Committed
Paperback

* Individual store prices may vary.
Description
Fiction. The ten linked stories in Jason Brown's A FAITHFUL BUT MELANCHOLY ACCOUNT OF SEVERAL BARBARITIES LATELY COMMITTED follow John Howland and his descendants as they struggle with their New England legacy as one of the country's founding families and the decaying trappings of that esteemed past. Set on the Maine coast, where the Howland family has lived for almost 400 years, the grandfather, John Howland, lives in a fantasy that still places him at the center of the world. The next generation resides in the confused ruins of the 1960s rebellion, while many in the third generation feel they have no choice but to scatter in search of a new identity. Brown's touching, humorous portrait of a great family in decline earns him a place among the very best linked-story collections--James Joyce's Dubliners, Sherwood Anderson's Winesburg, Ohio, Alice Munro's Beggar Maid and Denis Johnson's Jesus' Son.
Missouri Review Books, 9781945829246, 186pp.
Publication Date: December 15, 2019