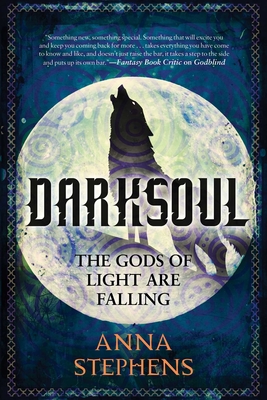 Darksoul
The Godblind Trilogy, Book Two
Paperback

* Individual store prices may vary.
Description
Evil gods walk the land as armies prepare for war in the thrilling grimdark sequel to the fantasy debut Godblind.

In the besieged city of Rilporin, Commander Durdil Koridam orders that the city's people must fight to the last rather than surrender to the surrounding armies of the Mireces and their evil Red Gods.
 
Outside Rilporin, the uneasy truce between King Corvus's Mireces and the traitorous Prince Rivil's forces holds, but the two armies are growing desperate to force a breach of the walls before the city's reinforcements arrive.
 
Meanwhile, prophet Dom Templeson reaches Rilporin: the Red Gods have tortured and broken his mind, and he ends up in Corvus's hands, forced to tell all his secrets. And what he knows could win the war for the Mireces.
 
Elsewhere, in Yew Cove, only a few survivors remain from a Rank of thousands of Rilporian warriors. Dom foresees the important role one of those survivors, Crys Tailorson, will take on as the events to come unfold. As Crys grows into his position as a leader, that role becomes clearer—and far darker. Will he be willing to pay the price to fulfill his destiny?
Praise For Darksoul: The Godblind Trilogy, Book Two…
Praise for Darksoul:
"A rock-solid sequel . . . nothing makes me more excited than to watch an author's skills develop over time. I look forward to what the conclusion of this trilogy will bring."—The Bibliosanctum, 4/5 Stars

"The secondrewarding, if incredibly bleak, installment in the grimmer-than-grimdark Godblind trilogy. . . . This series isn't for the squeamish—violence and bloodshed abound—but for readers interested in seeing how good brutal fantasy can be, it's definitely still a winner."—B&N Sci-Fi & Fantasy Blog

Praise for Godblind:

"Godblind is Anna Stephens' debut, and it writes her name in blood on the roster of masters of grimdark alongside the likes of Mark Lawrence and Joe Abercrombie . . . This is a grimdark fantasy that truly lives up to the name."—B&N Sci-Fi & Fantasy Blog

"A brilliantly brutal debut from an exciting new voice in dark fantasy. Highly recommended!"—Michael R. Fletcher, author of Swarm and Steel and Beyond Redemption

"Intriguing, fast-paced, and grimly fiendish. . . . Godblind sweeps you up and doesn't let you go."—Edward Cox, author of The Relic Guild trilogy

"A fierce, bold, and epic novel, Stephens's debut will leave blood on your hands, dirt beneath your nails, and the stench of battle clinging to your sweaty flesh. For fans of dark fantasy, this one comes highly recommended!"—Ronald Malfi, author of The Night Parade

"Something new, something special. Something that will excite you and keep you coming back for more . . . takes everything you have come to know and like, and doesn't just raise the bar, it takes a step to the side and puts up its own bar."— Fantasy Book Critic

"Anna Stephens is easily one of the most exciting début fantasy authors of 2017. Sometimes you get a book that simply nails a particular genre to the wall and gets everything right. Godblind is a triumph of grimdark fantasy."— Starburst Magazine, 10/10

"Thrilling, unrelenting and a brilliantly presented debut that lets readers walk on the darkest plains visited in the fantasy genre. Highly recommended."— Fantasy Book Review

"A delicious journey . . . Has all the signs of being a sensational series."— SFX 5/5 review

"Tailor made for my tastes in grimdark. It's epic in scope, characters, and setting. . . . I hear the series will be a trilogy, and I shall wait for news of the sequel with interest."— Bibliosanctum

"The grimdark debut of the year. . . . an excellent debut and the starting point of a promising author that won't take long to be a household name."— Booknest.EU

"Dark fantasy at its very best . . . a book that once you are in it you cannot escape it until you are done, nor would you want to. Highly Highly Recommended."— Liz Loves Books

"There aren't enough words to convey how much I loved this book. This might be my favourite book of 2017, but it's also shot right to one of my favourite books ever. . . . everything you could possibly want from a fantasy novel."— The Bibliophile Chronicles

"Has the potential to capture the world's imagination, and satisfy its blood-lust, every bit as much as A Song of Fire and Ice . . . The Red Gods are rising and so is Anna Stephens. She has entered the canon of fantasy literature."—Simon Fairbanks, author of The Sheriff

"This book was nothing short of amazing. . . . I absolutely devoured it. Godblind was utterly fantastic and completely engrossing to read."— Paws & Paperbacks

"An incredible debut novel for fantasy writer Anna Stephens. . . an incredible read, from the characters, settings, the epic battle scenes to the fast-paced plot – it was all insanely amazing."—The Book Tweeter, 5/5 Stars

"Wow, this was good! . . . . a mid-year front runner for my favourite book of the year. . . . there is a sequel planned which I know I absolutely have to read.— Worlds Without End

"Move over Abercrombie and Lawrence! You too, Fletcher. . . . Here at last we have a true GrimDark book, written by a female author that can not only stand up to the male competition, but also kick it in the balls! . . . Brilliant."— The Queen of Blades, 9/10

"A true joy to read and Anna Stephens is truly a fantastic writer and one to watch. If you are looking for a new grimdark or even a new fantasy book to read then I would highly recommend that you read Godblind."— Observant Raven

"Anna Stephens has this kind of writing that you'll just forget what was on your mind because of what was happening on the chapter you are reading. . . . One hell of a ride. This book is a must read."— The Royal Polar Bear Reads

Praise for Darksoul:
 
"A worthy second installment . . . Stephens expertly avoids a midseries slump with elegant, evocative prose, intense action, and plenty of emotional twists, providing a story that her fans will find irresistible."—Publishers Weekly, starred review

"An enticingly dark fantasy sequel that's sure to have readers excited for the story arc's conclusion."—Booklist

"Darksoul is another thrilling entry in the Godblind series. The desperate tone gives way to breathtaking action. With Godblind and Darksoul, Anna Stephens firmly establishes her name in the genre."—Grimdark Magazine
 
"An unrelenting, heart-hammering, merciless thrill ride . . . in Darksoul I can see [Stephens] maturing as a writer, refining her craft through leaner prose, wonderfully dynamic dialogue, and some lovely sensory descriptions."—The Fantasy Hive
 
"I've seen comparisons between Darksoul and The Two Towers and I think that's a really apt comparison. . . . a magnificent gripping read that I loved just as much as book one, and I cannot wait to find out what's in store next."—The Bibliophile Chronicles, 5/5 Stars
 
"My most anticipated book for 2018. I can categorically state: it did not let me down. . . . I am left once more in awe of Anna Stephens' story telling genius. I am left in the belief that this is a trilogy which will forever haunt me and draw me back in."—Bethan May Books
 
"I would compare [the Godblind series] to Game of Thrones for the unforgettable cast of characters and complex world-building (they also have a similar level of violence and profanity) but they stand on their own as a fantastic series. . . . it's clear that Anna Stephens has masterfully manoeuvred the pieces into place for what looks to be an epic final book."—Scorpio Book Dreams, 5/5 Stars
 
"Darksoul really captures war. It is dark, there are deaths aplenty and, even though there is a clear 'good side', there is no guarantee that they will win. . . . The series so far is rich and alive and I cannot wait, but also live partially in dread, to see what will unfold in the third and, I believe, final book in the series."—Lost in a Daydream
 
"This is Grimdark as it should be. . . . A cracking sequel and certainly a contender for book of the year for me."—Ebookwyrm's BlogCave
 
Talos, 9781945863288, 336pp.
Publication Date: January 2, 2019
About the Author
Anna Stephens is a member of the Birmingham Writers' Group, a friendly bunch of geeks with a penchant for Doctor Who bordering on collective obsession. She has a second Dan black belt in Shotokan Karate and is no stranger to being punched in the face, which is more help than you would expect when writing fight scenes. Her first novel, Godblind, was released in 2017.