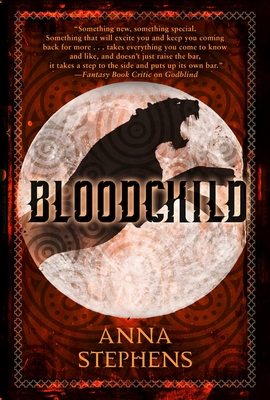 Bloodchild (Paperback)
The Godblind Trilogy, Book Three
Talos, 9781945863424, 408pp.
Publication Date: January 14, 2020
* Individual store prices may vary.
Description
In this epic grimdark conclusion to the Godblind Trilogy, heroes, armies, and gods both good and evil will battle one last time, with the fate of the world itself at stake. . . .

The great city of Rilpor has fallen. Its walls have crumbled under the siege by the savage Mireces; its defenders have scattered, fleeing for their lives; its new rulers plot to revive the evil Red Gods using the city's captured, soon-to-be-sacrificed citizens.

Now, with the Fox God leading the shattered remnants of the Rilporian defence and the Mireces consolidating their claim on the rest of the country, it's up to Crys, Tara, Mace, Dom and the rest to end the Red Gods' scourge once and for all.

While the Rilporians plan and prepare for one final, cataclysmic battle to defeat their enemies, the Blessed One and the king of the Mireces have plans of their own: dark plans that will see gods resurrected and the annihilation of the Dancer for all time. Key to their plan is Rillirin, King Corvus's sister, and the baby—the Bloodchild—she carries.

As both sides face their destinies and their gods, only one thing is clear: death waits for them all.
About the Author
Anna Stephens is a member of the Birmingham Writers' Group, a friendly bunch of geeks with a penchant for Doctor Who bordering on collective obsession. She has a second Dan black belt in Shotokan Karate and is no stranger to being punched in the face, which is more help than you would expect when writing fight scenes. Her first novel, Godblind, was released in 2017.
Praise For Bloodchild: The Godblind Trilogy, Book Three…
Praise for Godblind:

"Godblind is Anna Stephens' debut, and it writes her name in blood on the roster of masters of grimdark alongside the likes of Mark Lawrence and Joe Abercrombie . . . This is a grimdark fantasy that truly lives up to the name."—B&N Sci-Fi & Fantasy Blog

"A brilliantly brutal debut from an exciting new voice in dark fantasy. Highly recommended!"—Michael R. Fletcher, author of Swarm and Steel and Beyond Redemption

"Something new, something special. Something that will excite you and keep you coming back for more . . . takes everything you have come to know and like, and doesn't just raise the bar, it takes a step to the side and puts up its own bar."— Fantasy Book Critic

"Anna Stephens is easily one of the most exciting début fantasy authors of 2017. Sometimes you get a book that simply nails a particular genre to the wall and gets everything right. Godblind is a triumph of grimdark fantasy."— Starburst Magazine, 10/10

"Thrilling, unrelenting and a brilliantly presented debut that lets readers walk on the darkest plains visited in the fantasy genre. Highly recommended."— Fantasy Book Review

"A delicious journey . . . Has all the signs of being a sensational series."— SFX 5/5 review

"The grimdark debut of the year. . . . an excellent debut and the starting point of a promising author that won't take long to be a household name."— Booknest.EU

"Dark fantasy at its very best . . . a book that once you are in it you cannot escape it until you are done, nor would you want to. Highly Highly Recommended."— Liz Loves Books

"There aren't enough words to convey how much I loved this book. This might be my favourite book of 2017, but it's also shot right to one of my favourite books ever. . . . everything you could possibly want from a fantasy novel."— The Bibliophile Chronicles

"Move over Abercrombie and Lawrence! You too, Fletcher. . . . Here at last we have a true GrimDark book, written by a female author that can not only stand up to the male competition, but also kick it in the balls! . . . Brilliant."— The Queen of Blades, 9/10

Praise for Godblind:

"Godblind is Anna Stephens' debut, and it writes her name in blood on the roster of masters of grimdark alongside the likes of Mark Lawrence and Joe Abercrombie . . . This is a grimdark fantasy that truly lives up to the name."—B&N Sci-Fi & Fantasy Blog

"A brilliantly brutal debut from an exciting new voice in dark fantasy. Highly recommended!"—Michael R. Fletcher, author of Swarm and Steel and Beyond Redemption

"Something new, something special. Something that will excite you and keep you coming back for more . . . takes everything you have come to know and like, and doesn't just raise the bar, it takes a step to the side and puts up its own bar."— Fantasy Book Critic

"Anna Stephens is easily one of the most exciting début fantasy authors of 2017. Sometimes you get a book that simply nails a particular genre to the wall and gets everything right. Godblind is a triumph of grimdark fantasy."— Starburst Magazine, 10/10

"Thrilling, unrelenting and a brilliantly presented debut that lets readers walk on the darkest plains visited in the fantasy genre. Highly recommended."— Fantasy Book Review

"A delicious journey . . . Has all the signs of being a sensational series."— SFX 5/5 review

"The grimdark debut of the year. . . . an excellent debut and the starting point of a promising author that won't take long to be a household name."— Booknest.EU

"Dark fantasy at its very best . . . a book that once you are in it you cannot escape it until you are done, nor would you want to. Highly Highly Recommended."— Liz Loves Books

"There aren't enough words to convey how much I loved this book. This might be my favourite book of 2017, but it's also shot right to one of my favourite books ever. . . . everything you could possibly want from a fantasy novel."— The Bibliophile Chronicles

"Move over Abercrombie and Lawrence! You too, Fletcher. . . . Here at last we have a true GrimDark book, written by a female author that can not only stand up to the male competition, but also kick it in the balls! . . . Brilliant."— The Queen of Blades, 9/10