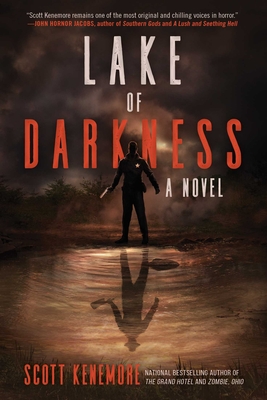 Lake of Darkness
A Novel
Paperback

* Individual store prices may vary.
Description
An Alternate History in which Power, Crime, and the Supernatural Intersect on the South Side of Chicago 

During the First World War, on the South Side of Chicago, officer Joe "Flip" Flippity has begun an investigation into a serial decapitationist who is hunting young children. At a time when African American officers are rendered second-class by prejudicial policies, Flip is nonetheless called upon by the mayor of the city—the legendary Big Bill Thompson himself—and a host of powerful city fathers, to thwart this murderer who threatens to destroy the city's reputation as a safe haven for those making the Great Migration north. 

While searching to catch his killer—and to discover why the most powerful men in Chicago are truly concerned about the murders of poor black refugees—Flip's bloody trail takes him through the South Side's vice districts (where anything is available for a price), across its most dangerous criminal underbellies, and into a bracing and unexpected world of supernatural horror.

As Flip digs deeper in his quest to protect the city's most vulnerable, he stumbles upon more mysterious murders, confounding psychological puzzles, and terrifying hints of something "other" that may reach across from unknowable distances to guide the hand of a killer. It soon becomes apparent that all is not as it seems, and that mysterious and powerful forces are conspiring to stand in Flip's way.

A combination of detective thriller, cosmic horror, and historical fiction, Lake of Darkness takes us to the deepest and darkest places in Chicago's very dark history.
Praise For Lake of Darkness: A Novel…
Praise for Lake of Darkness
"This superb blend of noir and horror from Kenemore (Zombie, Ohio) centers on the search for a serial killer who targets twins in WWI-era Chicago...Kenemore keeps the tension high throughout. Fans of gritty urban fantasy will want to read more from this gifted writer."—Publishers Weekly, starred review

"Scott Kenemore remains one of the most original and chilling voices in horror. He knows how to unsettle you, and how to ratchet up the tension. Read Lake of Darkness and experience his masterful command of narrative, full of dark dreams and unreasoning fear."—John Hornor Jacobs, author of Southern Gods and A Lush and Seething Hell

"With Lake of Darkness, Scott Kenemore takes readers back a hundred years, to a Chicago terrorized by a series of horrifying murders.  Blending trenchant social observations with vistas of cosmic horror, Kenemore crafts a narrative that rockets its hero and its reader to an ending unforgettable and resonant.  Kenemore's previous novel, The Grand Hotel, was a standout; with this one, he takes another step forward." —John Langan, author of The Fisherman and Children of the Fang and Other Genealogies
"First World War-era Chicago is the backdrop for this fast-paced tale of madness, murder, and a streetwise detective on the trail of a depraved serial killer. Lake of Darkness is a stylish, clever whodunit that's rooted in the very bedrock of the city's past."—Dean Jobb, author of Empire of Deception
"Scott Kenemore's new novel is a Chicago tale as strange and bizarre as the twin murders at its heart. He recreates the past with an unerring sense of place, delving into the nightmares that haunted us then as much as they do now. Lake of Darkness is an exceptional read."—Simon Strantzas, author of Nothing Is Everything
 
"If there is a definitive voice of Midwestern horror, Scott Kenemore is it. He has infused Lake of Darkness with lean, powerful prose and a deeply absorbing mystery. Fans of Laird Barron and Victor LaValle will devour this refreshing blend of crime, noir, the occult, and cosmic terror. It's a page-turning thriller that shows, once again, that more people should be paying attention to Kenemore's work."—Joanna Parypinski, author of Dark Carnival

Praise for Scott Kenemore

"Scott Kenemore writes with a deadpan wit that makes you keep turning pages." – The Cleveland Plain Dealer (for Zombie, Ohio)

"I think Scott Kenemore might be one of the best literary stylists working in the horror field right now.  Horror in the heartland has a new master scribe, and his name is Scott Kenemore!" – Joe McKinner, Bram Stoker Award–winning author of The Savage Dead and Dog Days (for Zombie, Indiana)

"With Zombie, Indiana, Scott Kenemore shows once again why he is the most exciting author of zombie fiction working today." Matt Mogk, author of Everything You Ever Wanted to Know About Zombies, and President of the Zombie Research Society

" Kenemore creates an authentic sense of place and character in ravaged Chicago as well as wittily sustained tension throughout." – Publishers Weekly (starred review for Zombie, Illinois)

"[A] very clever, heartfelt […] epic about what might happen if the mayor of Chicago were eaten by a zombie on television and aldermen instigated an armed overthrow." – Chicago Tribune (for Zombie, Illinois)
 
Talos, 9781945863509, 264pp.
Publication Date: May 5, 2020
About the Author
Born in New York and educated at Kenyon College and Columbia University, Scott Kenemore is the nationally bestselling author of The Grand Hotel, Zombie, Ohio, and numerous other works of horror, fiction, and satire.  He lives in Evanston, Illinois.  
or
Not Currently Available for Direct Purchase