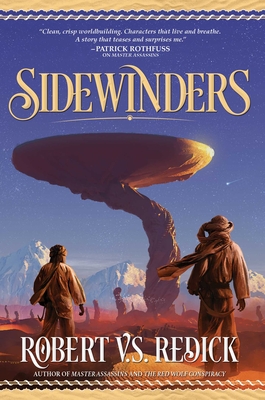 Sidewinders
The Fire Sacraments, Book Two
Paperback

* Individual store prices may vary.
Other Editions of This Title:
Hardcover (7/6/2021)
Description
Two brothers flee an army of fanatics across a vast and magical desert in this white-knuckle sequel to Master Assassins from Robert V.S. Redick, author of The Red Wolf Conspiracy.
 
The worst of rivals, the closest of friends, the two most wanted men in a war-torn world: Kandri and Mektu Hinjuman have cheated death so often it's begun to feel like a way of life. But nothing has prepared them for the danger and enchantment of the Ravenous Lands. This sprawling, lethal desert is the brothers' last hope, for they have killed the favorite son of Her Radiance the Prophet, and her death-priests and magical servants are hunting them day and night.
 
But there are dangers even within their caravan. Some of their fellow travelers worship the Prophet in secret. Others, including Mektu, have become obsessed with a bejeweled dagger that seems to afflict its owners with madness or death.
 
At stake is far more than the lives of two runaway soldiers. Kandri is carrying an encoded cure for the World Plague, a disease that has raged for centuries—while far from the desert, certain criminals have learned just how lucrative a plague can be. Are they using the Prophet, or being used by her? Who, in this game of shadows, can Kandri trust?
 
He knows one thing, however: they must reach Kasralys, great and beautiful fortress-city of the east. Only there can the precious cure be deciphered. Only there can Kandri seek word of the lover who vanished one night without a trace.
 
But Kasralys, never conquered in 3,000 years, is about to face its greatest siege in history.
 
Praise For Sidewinders: The Fire Sacraments, Book Two…
Praise for Sidewinders

"Master Assassins was one of the top 2 or 3 books I've read in the past decade, so [Sidewinders] had a LOT to live up to. And it did a fantastic job—I pity the next book I read having to struggle out of the shadow of this tome… Redick has built something magnificent here."—Mark Lawrence

"Robert V.S. Redick only writes great books."
—John Gwynne, author of The Shadow of the Gods 

"Sidewinders. I love this book, goddamnit. Robert V. S. Redick gives a fantasy reader everything her fiendish heart craves: plagues, prophets, demonic possessions, a desperate dash through desert dunes, giant spiders, giant cats, creepy children, plenty of vulgarity and sex, and an all-too-brief glimpse at paradise. So sure, if you like that kind of thing, go for it. Read this book. It's for you. But wait, there's more. For your not-so-average fantasy reader, your not-so-run-of-the-mill genre-lover, I beg you, look to Sidewinders. For it will give you ambiguity and delicacy. It will not spare you of its irony—and, oh, such irony! Its pages will impart so profound and aching an empathy that it just might leap off the page and follow you into your daily life. There is such courage in Robert V. S. Redick's Sidewinders—such courage and fury and passion and hope. Truly, a breathtaking work."
—World Fantasy Award-winning author C.S.E. Cooney

"I've been waiting for this since finishing Master Assassins—Sidewinders is everything I was looking forward to, and more. Redick gives us an intricately-constructed world, vividly alive, full of wonders as well as horrors and peopled with characters you'll take into your heart, especially the brothers Kandri and Mektu, and their difficult, often angry, and, for Kandri, ever-frustrating relationship. It's full of relentless action and deep mystery, desperate journeys from danger into danger, treachery, friends and allies loyal to the death, and plots revealed within plots. Just as vitally, the writing itself is beautiful—never a false note, every word ringing true."
—K.V. Johansen, bestselling author of Blackdog and The Cassandra Virus

"Sidewinders is a triumph in every single way to its predecessor and one of the richest worlds you can find in the fantasy genre today... Revisiting the desert lands of Urrath is the equivalent of rediscovering a long-lost passion." —Under The Radar SFF Books

Praise for Master Assassins

"This book has everything I love: Clean, crisp worldbuilding. Characters that live and breathe. A story that teases and surprises me. I like Master Assassins so much I wish I'd written it, but deep down, I know I couldn't have written it this well."—#1 New York Times bestselling author Patrick Rothfuss

"The prose is spectacularly good. Your adrenaline will flow. Your emotions will be toyed with. You will find yourself drawn in, turning the pages and worrying that fewer and fewer remain. I read a lot of good books. Quite a few very good books. This is one of the rare 6-star series openers I've encountered." —Mark Lawrence, author of Prince of Thorns and Red Sister

"Robert Redick really nailed this one. What a great story! Fascinating plot and characters, and all of the author's formidable skills at play. I cannot wait to read the next one."—New York Times bestselling author Terry Brooks
"Redick's powers of invention in this book are superb. He manages to reinvigorate his chosen mode of heroic fantasy by sheer force of description, his language always muscular, vibrant and well-calculated. The cast of characters is vast and believable . . . A hell of a ride." —Paul di Filippo, Asimov's
"An exquisitely written mix of heart-stopping action, masterful storytelling, and enchantment. Redick is a gifted wordsmith with a ferocious imagination. Master Assassins will produce many sleepless nights. I guarantee it."—New York Times bestselling author Mira Bartók

"A blazingly smart thrill-ride of an adventure. The world of Master Assassins is deep, mysterious, terrifying, and utterly real, and I'll follow Redick's heroes, the mismatched brothers Kandri and Mektu, wherever they go in it. I can't recommend this book highly enough."—Daryl Gregory, author of Spoonbenders

"Redick's long-awaited return to fantasy is the start of a truly satisfying epic."—B&N Sci-Fi and Fantasy Blog, "The Best Science Fiction & Fantasy Books of 2018 So Far"

"Subtle and layered, evocative and true." —Michelle West, Fantasy & Science Fiction magazine

"With spare, sharp-edged prose, Redick balances his rollicking adventure story against a tale of love and uneasy brotherhood, offering a thrilling glimpse into a world both haunting and haunted. His finest work to date."—Jedediah Berry, author of The Manual of Detection

"An at once engrossing, entertaining and superlative read. The world building is epic and the characters developed well within the movement. I look forward to this series and the continuation of the Brothers Hinjuman quest."—Koeur's Book Reviews

"[A] taut, deftly-plotted story. . . carries the drama and suspense without collapsing the weight of building a world and setting up a few more books' worth of storyline."—B&N Sci-Fi & Fantasy Blog

"Though it is only April 6th, and there are many books left to read this year, Master Assassins has cemented itself in AT LEAST my top 3 books of the year, maybe even #1. It is that good. . . . I recommend Master Assassins to everyone. Period."—FanFiAddict, 5/5 Stars
Talos, 9781945863615, 672pp.
Publication Date: July 6, 2021
About the Author
Robert V. S. Redick is the author of the Chathrand Voyage Quartet (The Red Wolf Conspiracy and sequels), among the most beloved and critically acclaimed epic fantasy series of recent years. An instructor in the Stonecoast MFA program and an environmental justice consultant, he has lived and worked in Indonesia, Argentina, Colombia, and many other countries. Master Assassins (Talos Press, 2018), the first book in The Fire Sacraments trilogy, was a finalist for the European Booknest Award for Best Novel, and was featured on numerous Best of the Year lists. He lives with his partner in Western Massachusetts.