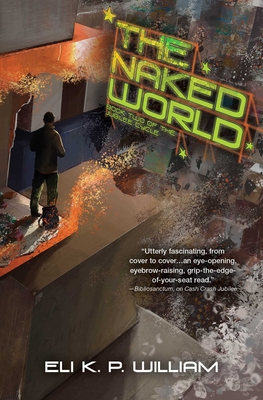 The Naked World
Book Two of the Jubilee Cycle
Paperback

* Individual store prices may vary.
Other Editions of This Title:
MP3 CD (3/6/2018)
Hardcover (11/21/2017)
Description
In a world stripped bare of digital images and promotainment, unveiled with the audiovisual overlay of the ImmaNet, in an exposed world, a naked world, Amon Kenzaki awakens, lost and alone. He must now travel deep into the District of Dreams in search of Rashana Birla, the one person that might help him unravel the mystery of jubilee. But deprived of the apps and informational tools he's depended on his entire life, traversing the largest bankdeath camp on Earth is no easy task.

Inside an ephemeral labyrinth of slowly-dissolving disposable skyscrapers clogged to the limit with the bankdead masses, Amon soon finds himself face to face with two dangerous groups: a cult called the Opportunity Scientists, who preach bizarre superstitions about economic salvation, and a supposedly humanitarian organization called the Philanthropy Syndicate, whose mandate of serving the poor conceals rapacious motives.

Amon takes refuge in Xenocyst, a community that genuinely strives to improve conditions in the camps, where he begins to work towards its cause and reconciles himself to his newfound poverty. But when political forces threaten the community's existence and the lives of its members, he is forced to team up with a vending-machine designer, an Olympic runner, a fertility researcher, a corporate tycoon, and many others to expose the heinous secret festering at the heart of the action-transaction market he once served.

In book two of the Jubilee Cycle, Eli K. P. William delves beneath the surface of his cyber-dystopian Tokyo to unearth the fate of outcasts trapped in its depths and shine a light on the financial obstacles blocking one individual's efforts to help them.

Skyhorse Publishing, under our Night Shade and Talos imprints, is proud to publish a broad range of titles for readers interested in science fiction (space opera, time travel, hard SF, alien invasion, near-future dystopia), fantasy (grimdark, sword and sorcery, contemporary urban fantasy, steampunk, alternative history), and horror (zombies, vampires, and the occult and supernatural), and much more. While not every title we publish becomes a New York Times bestseller, a national bestseller, or a Hugo or Nebula award-winner, we are committed to publishing quality books from a diverse group of authors.
Praise For The Naked World: Book Two of the Jubilee Cycle…
"A world pulled straight from the best episode of Black Mirror never made. . . . takes things to the next level."
—B&N Science Fiction & Fantasy Blog

"A worthy second novel in a trilogy, and made me eager to read the final book."—Amazing Stories Magazine

"A riveting read from cover to cover . . . [Williams has] a genuine flair for originality and imaginative, narrative driven storytelling of the first order."—Midwest Book Review

"Following in the footsteps of Canadian-American SF author William Gibson, who foresaw the creation of cyberspace, Toronto native Eli K.P. William serves up his own bleak vision of Japan's dystopian future. While a completely original work, characters in The Naked World—part two of the 'Jubilee Cycle' trilogy—face predicaments evocative of works by Jonathan Swift, Aldous Huxley, Philip K. Dick, George Orwell, and Stephen King."
—Mark Schreiber, Japan Times

Praise for Eli K. P. William and Cash Crash Jubilee

"Debut novelist William reverses the outsider perspective of cyberpunk in this
intricate tale of a digitally claustrophobic future."
—Publishers Weekly

"Eli K. P. William's book is prophetic and chilling in the best of ways, darkly sardonic yet filled with compassion."
—Gordon Dahlquist, author of The Glass Book of the Dream Eaters

"Cash Crash Jubilee is a roller-coaster ride of action and political speculation, all set against a vivid urban backdrop lit by total corporate domination of human life. Writing in the tradition of Dick and Gibson, Eli K. P. William leverages the details of near-future dystopian Tokyo to superb critical effect. A terrific debut!"
—Mark Kingwell, author of Concrete Reveries and The World We Want

"What is truly phenomenal about Cash Crash Jubilee, and what has held my attention, is the world building. Everything is explained, described, or illustrated in a way that makes sure the reader is never confused, but that also doesn't hinder the development of the plot in any way. It's an action-packed techno thriller. And after reading it, I'll never take something as simple as staring up at the night sky for granted again."
—BookRiot

"Combines 1984's brutal totalitarianism and Brave New World's seductive consumerism. Its premise is both horrifying and ridiculous. Is it a satire or a thriller? It works brilliantly as either."
—John Love, author of Faith and Evensong

"Cash Crash Jubilee is an unheralded gem of new wave cyberpunk."
—B&N Science Fiction & Fantasy Blog

"A stunning debut novel, a glorious and disturbing view of a strange new world that could easily become our new world. Fans of Neal Stephenson and William Gibson will find much to enjoy in Cash Crash Jubilee."
—Wayne Arthurson, author of Fall From Grace and A Killing Winter
Talos, 9781945863738, 480pp.
Publication Date: November 2, 2021
About the Author
Eli K. P. William, a native of Toronto, currently works in Tokyo as a Japanese-English translator. He has also written for the Japan Times, Now Magazine, and the Pacific Rim Review of Books. The Naked World is his second novel, with A Diamond Dream--the final installment in the Jubilee Cycle, scheduled for November of 2021.