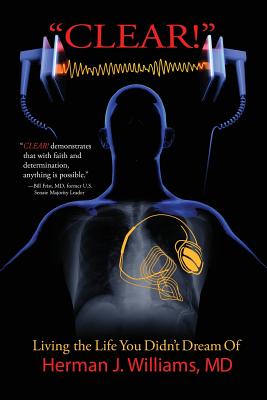 Clear! (Paperback)
Living the Life You Didn't Dream of
Atkins & Greenspan Writing, 9781945875144, 178pp.
Publication Date: September 1, 2017
Other Editions of This Title:
Hardcover (9/1/2017)
* Individual store prices may vary.
Description
Herman J. Williams was on the verge of living his ultimate dream of becoming an orthopedic surgeon to elite athletes -- when his life took a shocking detour.
"Herman " screamed his beautiful fianc e, Jeannie, as he lay lifeless on a gymnasium floor.
How could a healthy 31-year-old collapse during an afternoon basketball game with his fellow medical residents?
"No pulse " they shouted. "He's not breathing."
When the paramedics arrived, their defibrillator did not work
By the grace of God, Herman survived.
But this life-changing event killed the dream that he had worked so hard to achieve.
Depressed and disabled, Herman refused to give up.
So, he reinvented himself.
And thanks to the unwavering love and support of his family, his wife, Jeannie, and later their son, Cole, and lifelong friends and dedicated mentors, Herman created a deeply fulfilling life and career that helps more people than he ever could have imagined in his original dream.
Now he's sharing his inspiring success formula to help you endure life's crushing blows, so that you find purpose, and cultivate peace and joy every day.
"My message is that you have to embrace your current reality and decide that you'll make a positive difference for others," says Herman. "I want my story to inspire you to create your best life possible."
Dr. Augustus White, Herman's longtime mentor who is an Orthopedic Surgeon and a Harvard Medical School Professor, adds: "I got engrossed in this story and could not put it down. The writing is excellent, concise, and moves along very nicely. This very impressive narrative about Herman's resilience is honest and not pretentious. It's a love story as well. Herman has a great message that will resonate with people and embolden them to get up, try again, and commit to helping others. It's awesome."