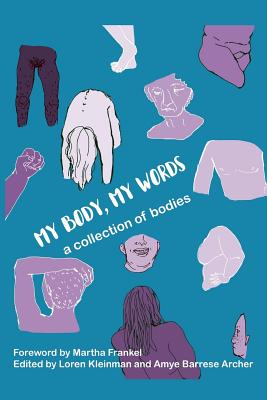 My Body, My Words - A Collection of Bodies (Paperback)
Big Table Publishing Company, 9781945917349, 258pp.
Publication Date: February 8, 2018
* Individual store prices may vary.
Description
The war on body image is fought behind closed doors, in dressing rooms, closets, bathrooms, and in the darkest corners of our society. It is a war that has claimed many lives and will continue to do so as it rages, a war rooted in self-hatred and self-loathing, born out of the media and pop-culture's idea of what it means to be beautiful. Beauty pageants, swimsuit calendars, "thigh gap," for longer than we care to admit, Americans have allowed our children- girls and boys- to participate in a culture where they are rewarded for how they look rather than their strong minds and hearts. Thankfully, the body positivity revolution has begun. _________________ "In My Body, My Words, we take an unforgettable walk with writers through an array of physical temples, from abuse to discovery to triumph. We see our own spirit in these stories of glory and pain and uncover ultimate truths that illuminate our outer and inner selves." Morowa Yejid , author of Time of the Locust: A Novel _____________________________ "My Body, My Words is an honest, heartfelt collection of fearless essays that is not to be missed." Chlo McFeters, director of You Look a Lot Like Me and author of The Ally Within _____________________________ "A gorgeous and powerful anthology exploring all things body image, My Body, My Words will take you on a journey through experiences of fear, hate, love, and evolution that writers of all ages, body types and backgrounds experience with their bodies, while calling for a self-love and a body positivity revolution." E. Ce. Miller, Bustle Magazine _______________________________ "My Body, My Words: A Collection of Bodies is not just another essay anthology. It brings together a diverse selection of voices for important conversations around body image and identity. Some are quick but powerful reads that pack a punch; others are longer meditations that chip away at the walls we put up around such delicate topics. All will resonate with you and stay with you for a long time to come." Elizabeth Enteman, Hello Giggles _____________________ "My Body, My Words is a groundbreaking essay collection edited by poet Loren Kleinman and author of the memoir Fat Girl, Skinny Amye Barrese Archer. It features poignant narratives of sexual assault, eating disorders, miscarriage and nude modeling from a diverse group of men and women, including New York Times best-selling authors Beverly Donofrio and Susan Shapiro. My Body, My Words explores the origins of body image ideals, the dangers of the medical profession's insensitivities and learning to navigate the connection between inner and outer selves." Sara-Kate Astrove, SheKnows _______________________ "Editors Amye Archer and Loren Kleinman put together a collection of body-centric essays that is so much greater than the sum of its (beautiful) parts. The anthology My Body, My Words is rich with stories of gender transformation, dressing-room breakdowns, yo-yo diets, judgmental grandmas, and falling in love. I loved Megan Galbraith's sexy tale of a summer camp counselor skinny dip. Plus, 50 percent of the book sale proceeds go to the Geena Davis Institute on Gender in Media." Hannah Howard, Pop Sugar, author of Feast.
About the Author
Amye Archer (Editor) holds an MFA in Creative Nonfiction from Wilkes University. Her memoir, Fat Girl, Skinny, was named runner-up for the Red Hen Press Nonfiction Manuscript Award and was released in April, 2016, by Big Table Publishing Company. She has two poetry collections: BANGS and A Shotgun Life, both published by Big Table Publishing. Amye's work has appeared in Brevity, Hippocampus, Mothers Always Write, Nailed Magazine, PMS: Poem Memoir Story, PANK, and Provincetown Arts. Her Essay, "Slow Motion," received a notable in Best American Essays 2016. Amye is a regular contributor to Feminine Collective and is the creator of The Fat Girl Blog. Loren Kleinman is a faculty member at New York Writer's Workshop and a full-time freelance writer and social media strategist. Her poetry has appeared in The New York Times, ADANNA, Drunken Boat, The Moth, Domestic Cherry, Blue Lake Review, Columbia Journal, LEVURE LITTÉRAIRE, Nimrod, Wilderness House Literary Review, Narrative Northeast, Writer's Bloc, Journal of New Jersey Poets, Paterson Literary Review (PLR), Resurgence (UK), HerCircleEzine and Aesthetica Annual. Her interviews appeared in IndieReader, USA Today, and The Huffington Post. She's also published essays in Cosmopolitan, Good Housekeeping, and Seventeen Magazine. She is the author of Flamenco Sketches and Indie Authors Naked, which was an Amazon Top 100 bestseller in Journalism in the UK and USA. Kleinman's The Dark Cave Between My Ribs was named one the best poetry books of 2014 by Entropy Magazine. Her third collection of poetry Breakable Things released via Winter Goose Publishing in March 2015. Her novel This Way to Forever released August 2016, and her memoir, The Woman with a Million Hearts released April 2016 via BlazeVOX. Stay with Me Awhile is her fourth collection of poetry.
or
Not Currently Available for Direct Purchase