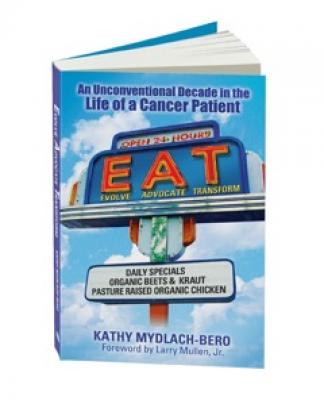 E.A.T. An Unconventional Decade in the Life of a Cancer Patient (Paperback)
Waterfront Press, 9781945949159, 332pp.
Publication Date: March 17, 2017
* Individual store prices may vary.
Description
E.A.T.: An Unconventional Decade in the Life of a Cancer Patient was written in journal format and based on the journals Kathy Mydlach-Bero kept during her battle with two aggressive cancers and struggle to recover from debilitating treatments. The book chronicles her courage to self-advocate, evolve as a person and eventually transform her life from merely surviving to thriving.
E.A.T. provides an excellent example of doctors practicing the art of medicine and tackling cancer through an integrative approach that saved Mydlach-Bero's life. At a key point in her cancer battle, Mydlach-Bero rejected the notion that cancer or doctors had any role in deciding her fate and found herself at a fork in the road. While she had taken advantage of everything her hospital had offered, Mydlach-Bero questioned conventional wisdom. After turning to meditation, Mydlach-Bero discovered eating with the intention to heal and untangled herself from conventional protocols.
About the Author
Through her remarkable recovery from two rare and aggressive forms of cancer, Mydlach-Bero developed her mantra "eating with the intention to heal" and uses it to inspire and help others. To that end, she founded a non-profit organization using her considerable talents as an organizer, communicator, fundraiser, and consensus builder to teach how to employ specific foods to prevent chronic disease, improve disease outcomes, and prevent recurrence. Prior to her cancer diagnosis, Mydlach-Bero's work ranged widely to include advocacy, leadership development, facilitation, fundraising and consultation in the U.S and abroad. She has been recognized locally and nationally for her significant contributions in environmental advocacy and education, and executive produced the two-time Emmy award winning documentary WORTH FIGHTING FOR. Mydlach-Bero is a mother of two children and resides in Delafield, WI.
or
Not Currently Available for Direct Purchase