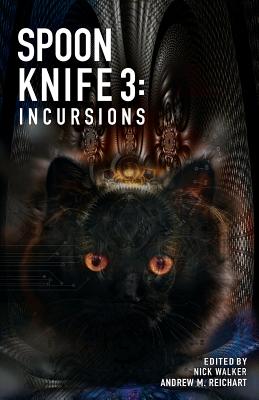 Spoon Knife 3
Incursions (Spoon Knife Anthology #3)
Paperback

* Individual store prices may vary.
Description
This third volume of the annual Spoon Knife anthology features new stories from three generations of cutting-edge queer and neurodivergent authors:
Ada Hoffmann
Alexeigynaix
Alyssa Gonzalez
Alyssa Hillary
Andee Joyce
Andrew M. Reichart
B. Allen
Dora M. Raymaker
Eliza Redwood
Jeff Baker
Judy Grahn
Melanie Bell
Mike Jung
N. I. Nicholson
Nick Walker
Old Cutter John
R. L. Mosswood
Sean Craven
Steve Silberman
Verity Reynolds
In these pages you'll find speculative fiction, magical realism, memoir, poetry, alternate history, and more, side-by-side or fused together into genre-bending mutant hybrid literary forms.
In these pages you'll find night terrors, ancient goddesses, cyborg burglars, autistic superheroes, zeppelin armadas, interdimensional space pirates, spiritualist robot mechanics, and the meddlesome agents of the Reality Patrol.
Spoon Knife 3: Incursions is a book that will expand your horizons, challenge your perceptions, invade your dreams, and inject its larvae into your brain. Read it before the Reality Patrol bans it.
Neuroqueer Books, 9781945955143, 368pp.
Publication Date: September 5, 2018