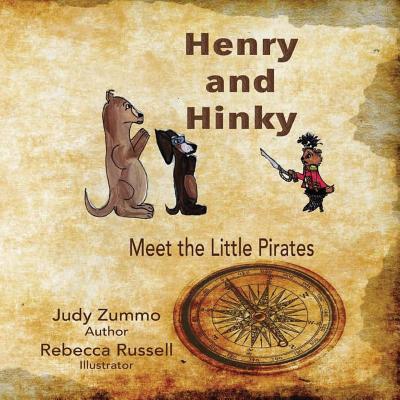 Henry and Hinky
Meet the Little Pirates
Paperback

* Individual store prices may vary.
Description
When Hinky and Henry went out for a day of rabbit chasing, they never suspected to run into a bunch of little pirates. Held hostage for a short time, and suspected of stealing the key to the toy treasure, they are released. The two best friends go in search of the culprit - a pirate frog named Sneet. This book has lovely illustrations and a relatable story of friendship, bravery, and a happy ending for all concerned.
High Tide Publications, 9781945990106, 56pp.
Publication Date: March 13, 2017
About the Author
Judy Zummo was born in Denver Colorado, Her father, James Jackson, was in the military, and stationed at White Sands where he was assigned to observe atomic testing. Her mother was a registered nurse. Judy's father contracted Leukemia and died when Judy was young. Her mother, Trudy, remarried Sumner Jones, and the family moved to Pennsylvania. Three additional children (two boys and one girl) were born. The family lived in Pennsylvania until Judy was fourteen. They were transferred to North Carolina where Judy graduated high school. She attended college in Salisbury, North Carolina and transferred to William & Mary where she graduated in 1966 with a degree in English, and a minor in math. Apart from time off raising her two daughters, she taught both English and math for thirty years. Apart from raising her two daughters, it was always here plan to be a teacher. She continues to be a substitute teacher in the local public school system. Judy has two daughters, Tonya, a general surgeon, and Andrea, an attorney. When Judy's older daughter, Tonya, was young she had two imaginary friends named Hoeny and Hinky, who were pirates. Whenever Tonya did anything wrong, it was Hoeny and Hinky who took the blame. Judy recorded those stories, and they became the inspiration for the Henry and Hinky series. Judy and her husband, Michael, live in Locust Grove, Virginia with their two dogs. They enjoy sailing, reading, and riding horses. For more information, please visit her website at www.JudyZummo.com