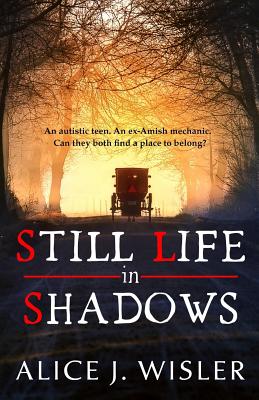 Still Life in Shadows
Paperback

* Individual store prices may vary.
Other Editions of This Title:
Paperback (8/1/2012)
Description
It's been fifteen years since Gideon Miller ran away from his Amish community in Carlisle, Pennsylvania as a boy of fifteen. Gideon arrives in the Smoky Mountains town of Twin Branches and settles in at the local auto mechanic's garage. He meets a host of interesting characters -the most recent acquaintances are Kiki, an autistic teen, and her sister Mari. Known as the "Getaway Savior" he helps other Amish boys and girls relocate to life in modern America. One day the phone rings. On the other end is his brother Moriah calling from Florida. Of course Gideon welcomes his brother to stay with him and offers him a job. But Moriah is caught in a web which ends in his death and forces Gideon to return to the town of his youth, with his brother's body in the back of a hearse and Mari and Kiki at his side. He must face not only the community he ran away from years ago but also his own web of bitterness. Will he be able to give his anger over to God and forgive his father?
Heritage Beacon Fiction, 9781946016379, 310pp.
Publication Date: September 21, 2017
About the Author
Born and raised in Japan, I love sushi! I also enjoyed walks to the stationer's store to purchase notebooks, scented erasers and pencils when I was in elementary school. With each purchase, I was sure I was going to write a bestseller! Now I write, blog, and enjoy crafting fun characters in Durham, NC. My first five novels are set in some part of my state. Rain Song (Christy Finalist 2009) takes place in the little town of Mount Olive, home to Mount Olive Pickles and strong family ties. How Sweet It Is, also a Christy Finalist in 2010, takes places in the Smoky Mountains. Hatteras Girl made her debut October 2010. Of course, it is set in the lovely Outer Banks. A Wedding Invitation, has flashbacks of settings in a refugee camp in the Philippines and also has scenes in Winston-Salem, NC. It arrived in October 2011. For me, this novel represents the need we all have to belong and be accepted, just like my Amerasian character feels. Still Life in Shadows, my fifth novel, takes place in a small mountain town I created called Twin Branches. This is also a story of belonging as Gideon Miller helps dissatisfied Amish youth relocate and find their places in modern society. Under the Silk Hibiscus is my first historical novel, set in a Japanese-American internment camp, during WWII. In addition to speaking at conferences and retreats across the country, I teach online grief-writing classes---Writing the Heartache---and design and sell remembrance cards. Since my four-year-old son Daniel's death in 1997, I've written articles on coping with grief. Many of these can be read at the Open to Hope website at opentohope.com. Be sure to visit my website at alicewisler.com and my blogs: alicewisler.blogspot.com and writingtheheartache.blogspot.com
or
Not Currently Available for Direct Purchase