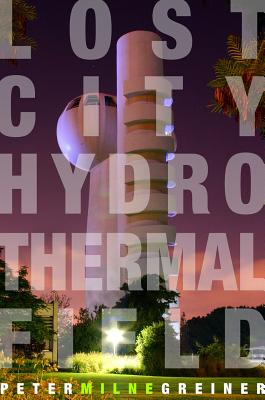 Lost City Hydrothermal Field (Paperback)
Operating System, 9781946031112, 111pp.
Publication Date: October 11, 2017
* Individual store prices may vary.
Description
Poetry. Hybrid Genre. LGBTQIA Studies. Science Fiction. Drawing on the work of such thinkers as John McPhee, Rachel Carson, Timothy Morton, Frank White, and others, LOST CITY HYDROTHERMAL FIELD explores philosophies of nature old and new through poetry and science fiction. The anthropocene crisis and the crisis of humanity-as-invasive-species are framed in this text as global, as well as personal, misadventures. A mixed-genre work, readers encounter poems and stories--islands and continents--in a rapid succession of speculative geography, and readers are invited to join its beleaguered, psychozoic populations.

"Peter Milne Greiner's poems range widely across space, time, and cultural history--from the Magna Carta to The Little Mermaid, from the pyramids to the astronomical observatory at Mauna Kea--and catch up in their full-throttle trajectory a universe of detail about the nature of things. Indeed, the poet's brooding over the fate of Geena Davis as well as that of 'lame dystopias' suggests nothing so much as Lucretius's epic enterprise: 'I mine human doing, ' Greiner declares, 'for all its garish hyper objects.' By deploying a language alert to figurative provocation that's sharpened by a tautly disjunctive syntax, Greiner uncovers the apocalypse in the quotidian and raises everyday life to fearsome implication." --Albert Mobilio

"LOST CITY HYDROTHERMAL FIELD is in the world, but it's not of it. Peter Milne Greiner is the voice of the cosmic mundane--sublime, real, and existentially funny." --Claire L. Evans.
or
Not Currently Available for Direct Purchase