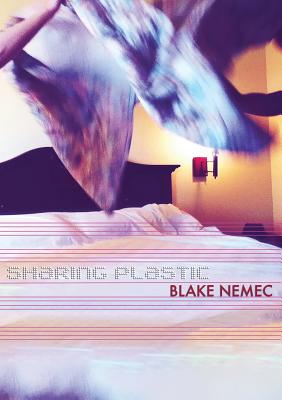 Sharing Plastic (Paperback)
Operating System, 9781946031204, 78pp.
Publication Date: January 17, 2018
* Individual store prices may vary.
Description
"'By the fear in her face I don't think she knows realness, ' writes Blake Nemec in his disarmingly original book Sharing Plastic. And what's real here is the "banter" of sex and hotel workers that in spectacular glimpses reveals their behind-the-scene intimacies and the endless negotiations needed to get paid, stay alive, and avoid arrest. The specter of violence always at the margins of their swagger and wit, we listen to them as they arrange their 'bodies of work' in latex, or assemble pillows on beds (because 'pillows are my paycheck'), as they discuss how to 'organize dating' while on a wine-tasting tour, or urge a co-worker troubled by a John who looks like Brad Pitt to 'pretend he was Judith Butler.' Smart and funny, Nemec's debut book of poetry shows us that 'talk is rope, ' that individual voices find their strength braided together in common purpose. I urge you to listen."--Rosa Alcal

"Reading a blake nemec book you realize what people must have felt after a month or two in Warhol's Silver Factory--simultaneously the multimedia blitz, the making of a dozen different movies around you, the pillows of silver mylar floating through air, the silkscreened flowers, and the soul-shattering buzz of being in the most exciting place on earth. Puzzling, but definitely thrilling. nemec's work is filled with stories and dialogue, but also analytic passages that combine raw bioenergy with Noel Coward wit. And so sexy "Their torsos/ / swooshed past each other's/ images, but bent towards one another's mouths lipping off...." This broken mess of exquisite diamond dust, this altar of soul and desire, will give God a new face." - Kevin Killian

"In Sharing Plastic, blake nemec opens our hearts to those who do the hard and marginal work of the world, putting their "hired hands" and other body parts into service for us, whether as domestic workers, sex workers, or others who live on the razor's edge of risk. "Our lips/won't get sealed with service/fees and arrest/threats will not clip our echo," nemec declares on behalf of his people. These poems are as generous and expansive in their plasticity as the resilient voices that animate them. And the visuals in these pages--vibrant images of bodies, forms, and altered documents--sinuously intersect with nemec's text to counterpoint and complicate the book's empathic vision. Sharing Plastic is a resonant and expressive book of grit and grace." --David Groff, author of Clay

------------------------------
Sharing Plastic is a gushing homage to each worker who has feared arrest. It is a confrontation to an undiscerning view of migration and whiteness. At times playful while others severe, this hybrid poetry/fiction collection works to lengthen sonic intimacies between unprotected workers by snaking such dialogues or scenarios next to one another as one resonating force.

Different from literature that finds poetic tension between informal trade workers and their bosses, or poems that distantly paint a marginalized worker scenario as dramatic, these episodes hone in on the loving or volatile worker to worker exchanges.

The characters and voices in these vignettes cinematically traverse between El Paso, San Francisco, Oakland and Chicago. In a political time when people are bracing themselves each time they turn on the news, Sharing Plastic, alongside other voices which only know flux, suggests honoring those who have long known how to navigate the temporary.