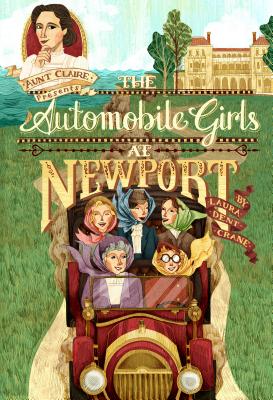 The Automobile Girls at Newport (Hardcover)
Or, Watching the Summer Parade (Aunt Claire Presents)
Laboratory Books, 9781946053008, 240pp.
Publication Date: September 5, 2017
* Individual store prices may vary.
Description
This is one of the series books that American girls read for fun a century ago. It's not only a fast-paced tale of friendship and adventure, but also a window onto the past. Aunt Claire has combed through the attic of forgotten stories to rescue some of the best. Her first selection is The Automobile Girls at Newport, originally published in 1910. In this book, you will meet Ruth, Barbara, Mollie, and Grace, the four explorers who take to the road in Ruth's bright red car, affectionately called Mr. A. Bubble. They are heading for Newport, Rhode Island, a resort town famous for mansions and millionaires. Oh, and Ruth's Aunt Sallie is coming along too, just to keep the girls out of trouble. She's a good sort of aunt (rather like Aunt Claire), but she's also fond of naps, and she leaves some of the more dangerous adventuring to the girls. And danger does find them--a professional thief is following the girls to Newport He is planning to pull off a big jewel heist at the annual Tennis Ball, and . . . well, I suppose you'll just have to see. Aunt Claire's illustrated introduction provides just the right amount of historical context for young readers: What was it like to go on a road trip in 1910? Were girls encouraged to drive? And what can we learn from the mix of social attitudes displayed in the book? Don't forget to look underneath the jacket to see the original cover from 1910.
About the Author
Aunt Claire spends much of her time in other people's cellars and attics, searching for stories (and gold). Of course, it's really the other way around: if you know where to look, the right kinds of stories have a way of finding you. The ones she encounters most often are about friends, and quests, and friends who go on quests. Sometimes, when she's read all she can read for the day, you might find her on a hillside, considering a theory she's heard that clouds are just another type of sheep. If you've heard this theory too, stop by sometime. And you'd better bring your good hiking boots--those ones without the holes--just in case. You never know when you'll wander into an adventure.