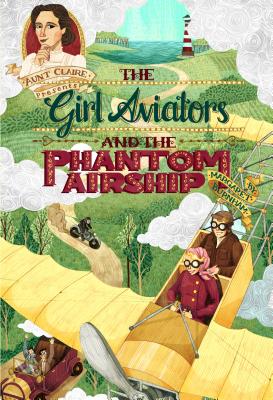 The Girl Aviators and the Phantom Airship (Aunt Claire Presents) (Hardcover)
Laboratory Books, 9781946053060, 216pp.
Publication Date: May 15, 2018
* Individual store prices may vary.
Description
This is one of the series books that American girls read for fun a century ago. It's not only a fast-paced tale of friendship and adventure, but also a window onto the past. Aunt Claire has combed through the attic of forgotten stories to rescue some of the best. Her third selection is The Girl Aviators and the Phantom Airship, originally published in 1911. In this book, you will meet Peggy Prescott and her brother Roy, two orphans who drop out of school and spend every last dollar they have to fulfill their father's dying wish--to construct a new type of aeroplane, better and more reliable than any other. With the help of their best friends Jess and Jimsy, can they get their Golden Butterfly in the air and win the $5,000 Young Aviator's Prize before the scheming banker Simon Harding forecloses on their aunt's Long Island farm? Or will Simon's son Fanning carry off the prize with the Phantom Airship he's constructing in secret with his unsavory helpers? Aunt Claire's illustrated introduction provides just the right amount of historical context for young readers: What was it like to fly in an airplane in 1911? Were there girl aviators in real life? And what can we learn from the mix of social attitudes displayed in the book? Don't forget to look underneath the jacket to see the original cover from 1911.
About the Author
Aunt Claire spends much of her time in other people's cellars and attics, searching for stories (and gold). Of course, it's really the other way around: if you know where to look, the right kinds of stories have a way of finding you. The ones she encounters most often are about friends, and quests, and friends who go on quests. Sometimes, when she's read all she can read for the day, you might find her on a hillside, considering a theory she's heard that clouds are just another type of sheep. If you've heard this theory too, stop by sometime. And you'd better bring your good hiking boots--those ones without the holes--just in case. You never know when you'll wander into an adventure.